Reading Time:
6
minutes
Developing a game is no easy job. In fact, It's very stressful and time-consuming. Believe it or not, the game art and game-ready assets you need for it are even more complex to make.
We're talking about thousands of high-quality designs and assets with specific demands.
Chances are, you're dwelling on outsourcing your game art project right now.
And you must want the outsourcing team to talk to your artists in their language and be easy to work with.
In this guide, we'll tell you everything you need to know to have a pleasant outsourcing experience.
What exactly is game art?
Game art consists of all the visual components in a game and game art design is the creation of these visuals in video games.
The game art team has to deliver sketches and then draw or animate characters, environments, items, interfaces, and backgrounds.
Game art designers are responsible for the "feel" of the game through their creations and designs.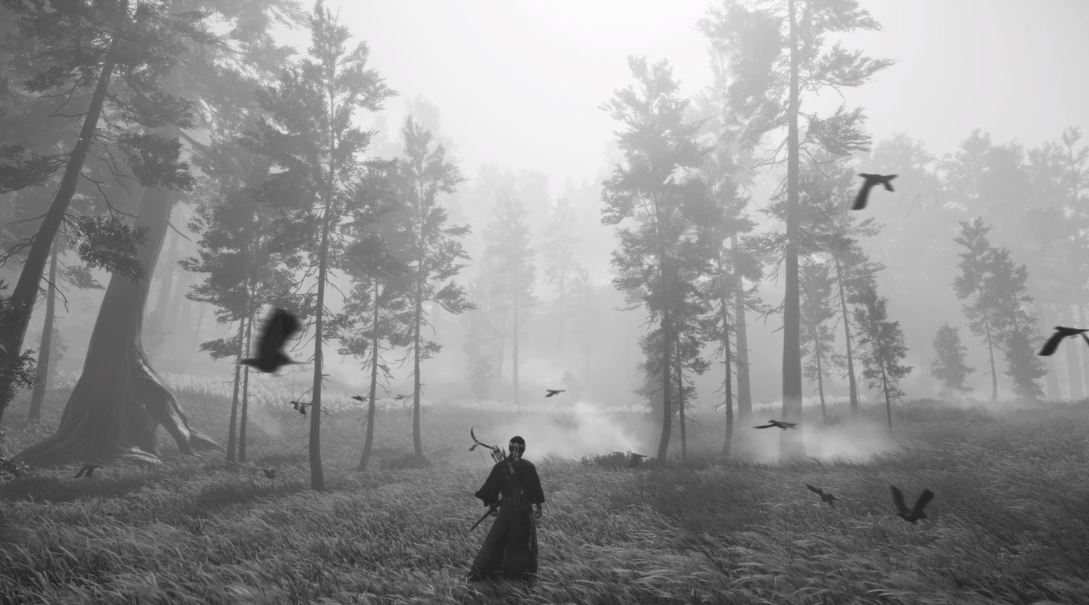 So, what's the difference between game art and game design?
The content of a game, how it's played, and the missions that players must pass are all the responsibility of the game designer. The appropriate graphics and animation are then completed by game art designers for the game the designers have created.
In other words, game designers don't bother with the visual components. Instead, they deal with the game mechanic and the logic of the game.
A game designer acts as the main driver behind the creative and project management process in the production of a video game.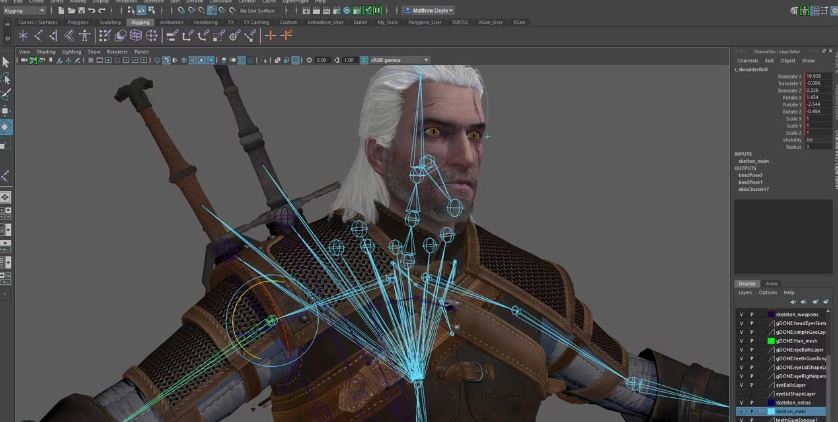 It all starts with a very important step; A brief
So, you've begun working on a new video game and want to know how you can get done the mammoth task of creating your game art.
Working with an outsourcing partner starts with a brief and you should give a detailed list of the graphic assets you require and provide as many visual examples as possible to help your outsourcing partner with the job. This also allows them to estimate your project accurately.
A professional game art studio will take time for planning and ask the right questions and keep in touch with you all the way, but it's always better to provide as much information as possible to make the process faster and easier.
Some of the things your outsourcing partner may need for your game art project are as goes:
A short description of the game, how it's played, and its genre
A list of all graphical assets you need for your project
The level of detail for each asset
The number of polygons needed for the models
References for your desired art style (i.e. realistic, stylized)
The size and resolution for each model
The export format/methods
Optimization requirements
Software limitations
Game engine version
Now, the game art outsourcing workflow
While working with any type of outsourcing partner should contain the following steps, we've decided to bring a common game art outsourcing workflow so you have a better picture of what to do and what to expect in the process.
1. Finding a partner
Game art studios are present on the web and social media and don't shy about showcasing their best work and projects. See their work, read their testimonials, and check out their blog pages. This should give you enough information to come up with a list of potential partners.
2. Evaluation
Now, it's time to contact your potential collaborators to get closer to a decision. Tell them about your budget and ask them how much the references would cost.
3. Discussions and Agreement
Get into specifics and emphasize your deadline. The studio can either handle the workload you require and agrees to reach your deadline or will try to negotiate another one. Based on your needs, you'll know whether the terms are acceptable to you. If so, get them to sign an NDA and go into the production phase.
4. Production
Your project's now in the hands of your chosen game art studio. Everything should be clear from now on and your partner's art team will provide updates as the project progresses.
Working under the supervision of an art director, the game art design team, which consists of different types of graphic artists, goes through a process to produce the art and visuals of a game:
Concept art
2D & 3D modeling
2D & 3D environment, character, and asset design
Lighting
Effects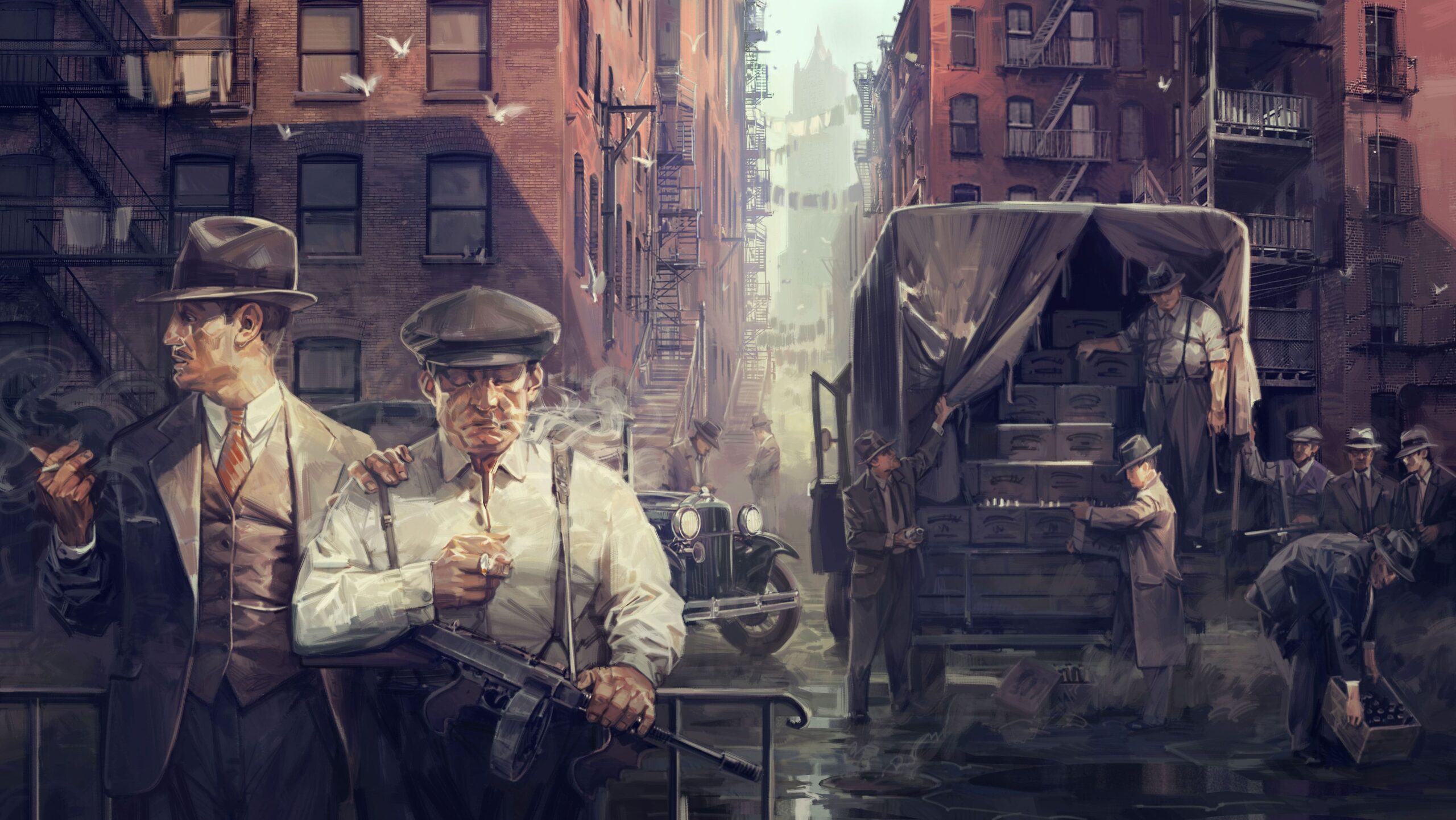 5. Review and Delivery
Our studio has an in-house QA team that makes sure all submitted work is up to par, so all the art will go through them before your finalization. Of course, you are free to request your own changes within the terms of cooperation that both sides agreed to.
Tips to have a delightful game art outsourcing experience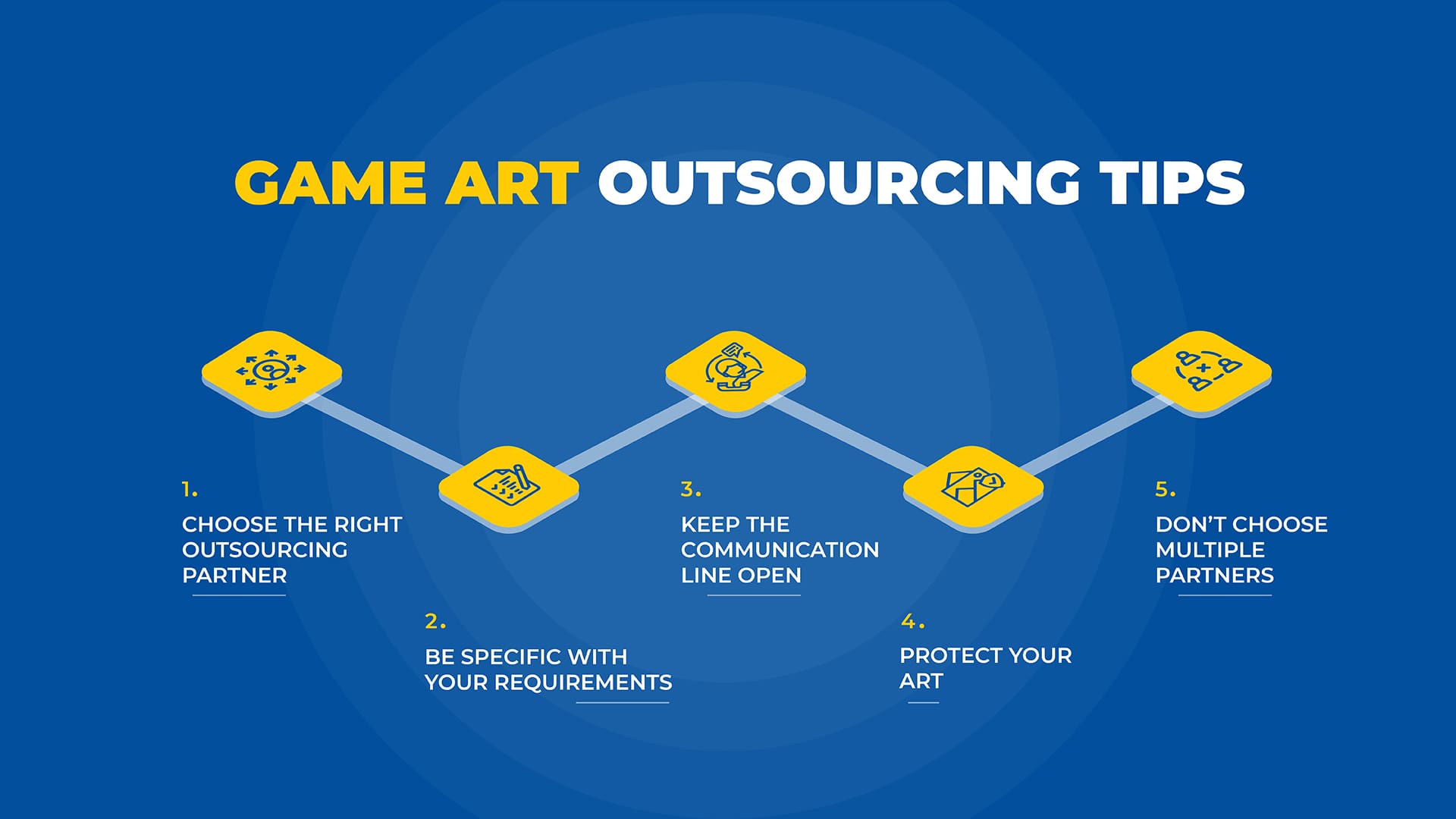 1. Choose the right outsourcing partner
You've worked hard on your game and deserve to enjoy its success. So, don't spare time when looking for a good game art studio. Take a good look at their website, blog pages, and portfolio, and get in touch with them before starting the outsourcing process.
2. Be specific with your requirements
Help the studio, help you. The clearer you are with what you want, the better the studio can help you with your project. Work out the details, show references, and tell them about your deadlines and milestones at the beginning.
3. Keep the communication line open
A good studio will ask for your involvement in the game art production pipeline. It's true that by providing more data and concepts of your video game, the studio will work better and faster for you. But getting involved in the pipeline and communicating with the studio is something that puts you even more ahead.
4. Protect your art
An all-inclusive non-disclosure agreement (NDA) can free you and your outsourcing partner of misunderstandings. You have the right to protect your intellectual property, so do it! Also, be selective about how much you tell your partner and the channels you share data with.
Working with us is easy and transparent!
At Dream Farm Studios, we put quality first and
keep you posted all the way.
That's my kind of studio.
5. Don't choose multiple partners
Outsourcing your game art project to multiple contractors will frustrate you as each has its own terms, tools, style, and deadline management. Go for one game art studio to have more cohesive assets and assurance to reach your deadlines.
How to get your hands on some game art
There are three common ways that game developers can have their game art prepared. For each way, you must consider factors such as cost, workload capacity, quality, and time.
1. Hire a game art studio
Game art studios pay extreme attention to quality because their reputation depends on their work. Plus, studios have an organized structure. So, you'll get a pipeline after you submit an order, and the creative manager will keep you updated along the way and consult you when your involvement is needed.
The costs? Usually higher than the other two. But experienced studios with proven success and good testimonials have the technology and manpower to offer you more comprehensive services.
Moreover, game art studios have artists for almost any area of expertise, delivering you a tailor-made project.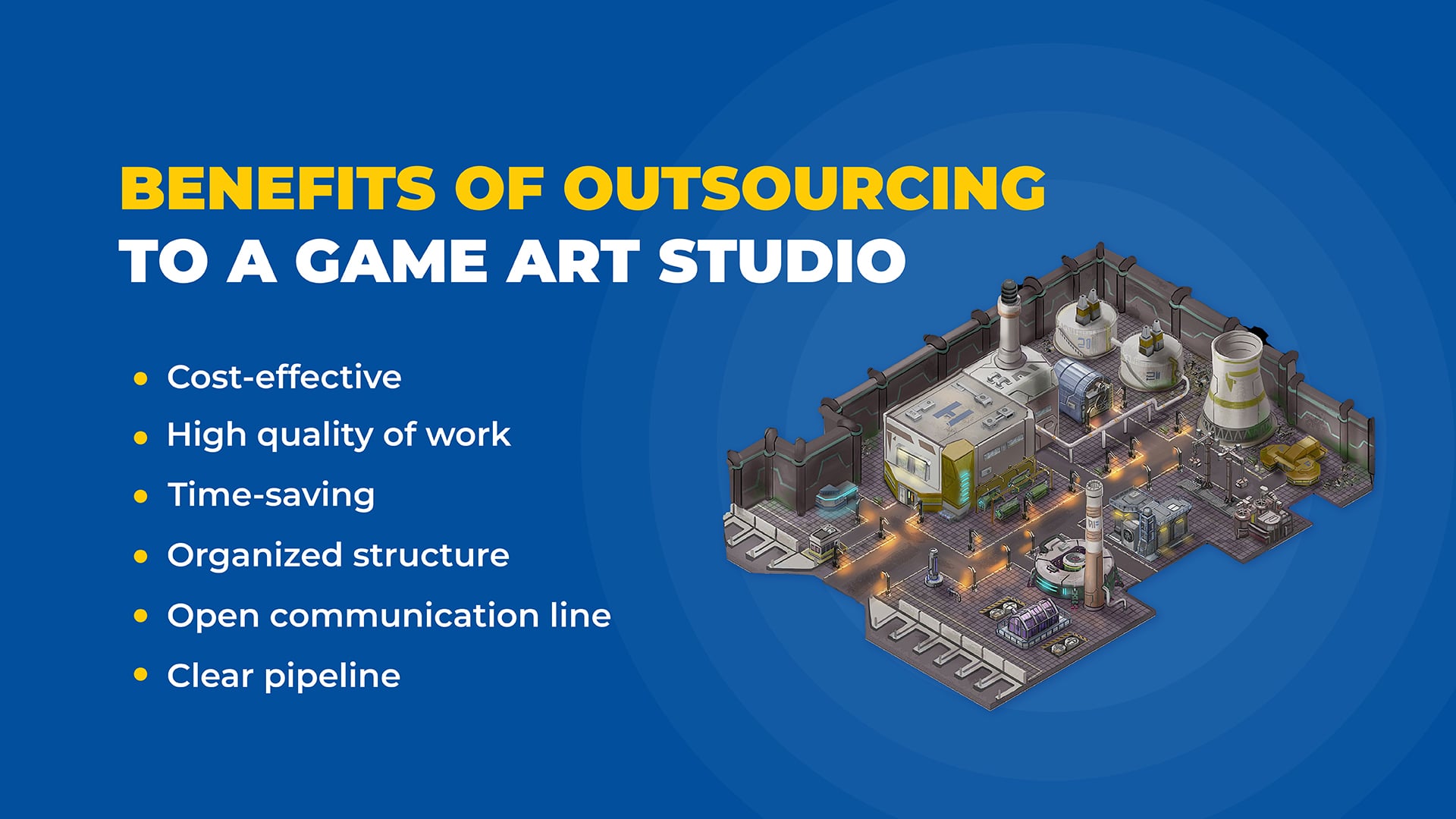 2. Do it yourself
Using your in-house designers and artists may seem like the wisest plan at first, but consider this: In order to complete the game art, your workforce has to pause their other tasks. This considerably slows down your company and disrupts your KPIs. Also, ask yourself whether you have the resources and technology. If the answer is no, then you have to try one of the other two options.
3. Hire freelancers
Freelancers charge you different rates based on their experience and customer reviews. Many companies around the world hire them, and they seem to be efficient for very small, minor projects. The only problem (which happens to be very big), is that they're unpredictable. Even the best freelancer might leave you with something other than what you were expecting, which can set you back and cost you a lot of time (and, of course, money).
Another downside of outsourcing your project to a freelancer is the lack of transparency, as you have no control over how the work is being done.
Lastly, if your workload exceeds the limitations of a single person, you might have to hire several freelancers and spend more than you had predicted. Keep in mind that this complicates things as each has its own working conditions and may not all be able to respect your deadline.
Dream Farm Studios' 2D & 3D game art services
Our 2D services
2D characters
2D props & assets
Tech Art
Illustration
VFX for 2D animation
Concept Art
Our 3D services
3D characters
3D props & assets
3D environment design
Low Poly 3D
Texture art
Lighting and shading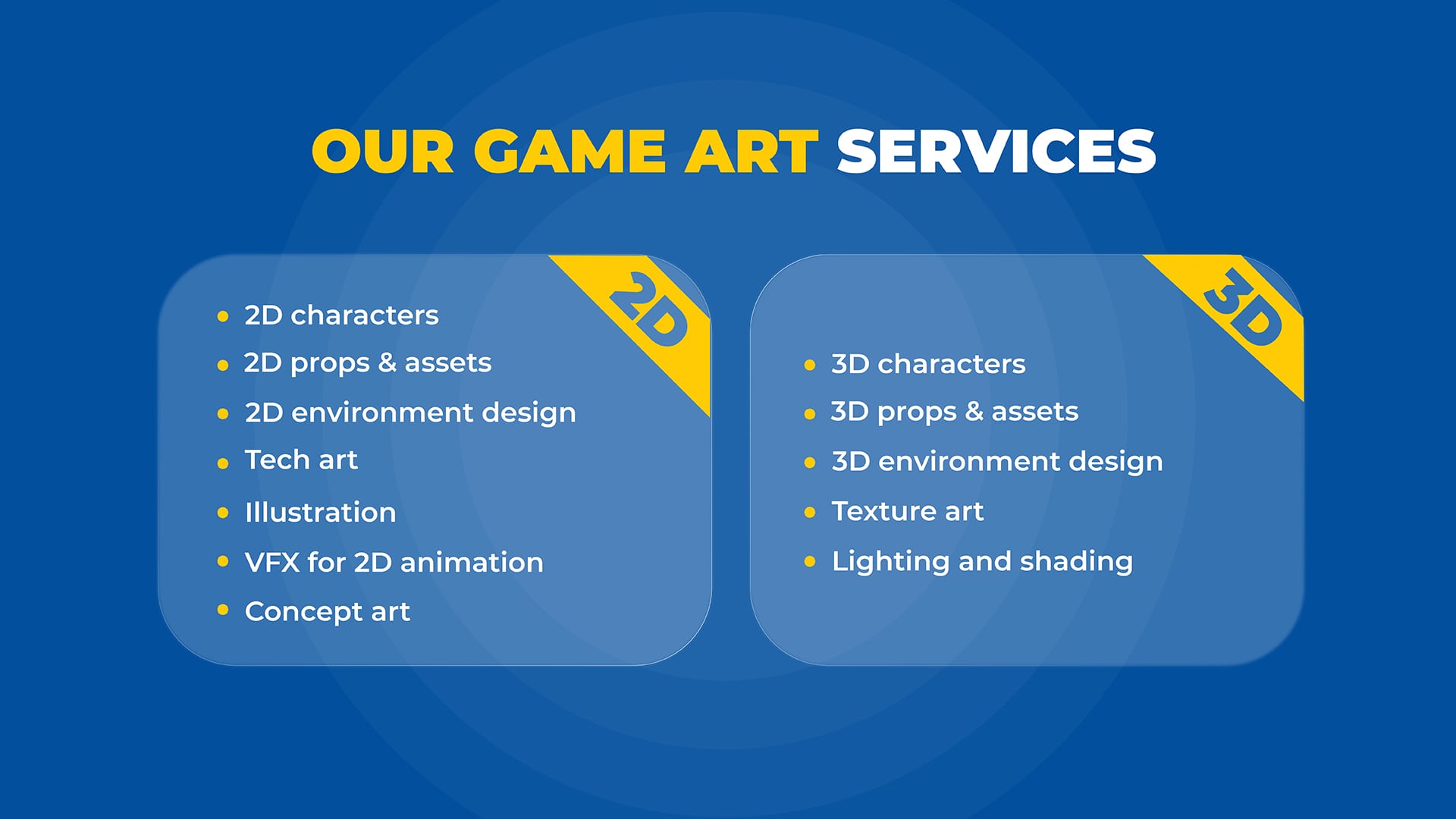 Are you looking to outsource your game art project?
In working with numerous companies, we've had clients who had outsourced their game art or animation before. It's only natural to also have clients who haven't had the experience and don't know what they exactly want. If you're one of those companies, don't worry.
Every animation studio showcases its works online on its website and social media. By going through them, you can decide which work style suits you best and get a grasp of the company's working quality.
Besides, at Dream Farm Studios, our project managers and creative team would be pleased to introduce you to different styles and explain the pros and cons of each style, based on your needs.
You work on the game, we work on the art
Dream Farm Studios frees your time so you can work on the game development.
Let's get into specifics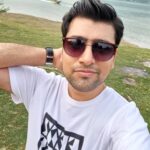 Allen is the Senior blog writer at Dream Farm Studios. In the five years he has been writing for startups and big companies, he challenged himself to learn all he could about digital marketing and finally became a key member of the Marcom team. When he's not doing all of that, you can find him teaching different languages, learning new recipes, and watching cool documentaries about, well, anything!