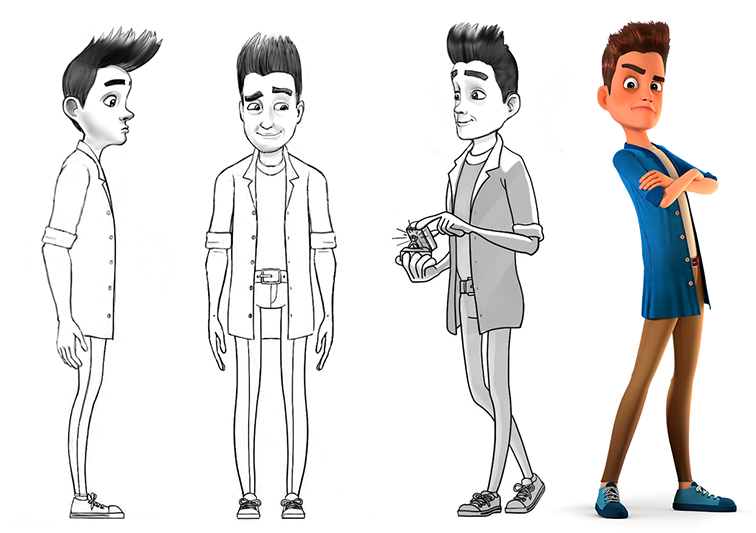 IT'S ALL ABOUT CHARACTERS!
Whatever it is you're trying to make, from a television show to a video game, from an animation feature film to a business, your characters are your most important assets; especially for storytelling. Characters are in fact the core of any narrative.
Creating an effective fictional character from scratch involves a lot of creative thinking and requires a wide range of skills. Your characters have to be interesting enough to hold the attention of your audience long enough.
OUR CHARACTER DESIGN DEMO REEL
Dream Farm artists have created thousands of characters for a wide range of applications including feature films, short films, TV commercials, video games and educational 3D animations.
Our character design studio is fully capable of creating well-developed characters from scratch and transforming them into 2D or 3D using the latest technologies.
01
Stylized Character Design
A lot of characters we see in 2D or 3D animations are just an artistic representation of the real characters we see in the real world; with different or exaggerated features and proportions.
However, human brain can generally recognize familiar stylized objects or characters and relate to them; despite the obvious differences in their looks compared to what we see every day.
Stylized characters are intentionally designed different than the real world characters to fulfill a goal; from being able to appeal in an artistic way, to representing a special style or provoking a special emotion. Technically speaking also, due to the simplistic nature of stylized models, they are more efficient to work with.
02
Brand Character / Mascot Design
For decades, brand characters, aka. mascots, have been creatively used by character design studios, marketers, and agencies as a brand visual identity facilitator.
Effective mascots can strengthen the connection between the brand and its target audience in an emotional way. If properly used, mascots will raise brand awareness, sales, loyalty and customer retention.
Finding and creating unique characteristics that represent the brand properly and leveraging it would be the ultimate aim of mascot design.
03
2D Character Illustrations
2D characters have never lost their charm. They can be found everywhere, from concept art designs, 2D animations and videogames to explainer videos and advertising.
2D characters are created based on the initial brief and sketches; most often with special emphasis on the emotional aspects, body language and costumes.
A lot of 2D character designs will be 3D-modeled later on in the animation production pipeline or rigged for 2D animations.
04
Game Character Design
The gameplay, the game world and the audiovisual presentations that make up the entirety of a game are all og great significance. But characters present the very essence of a game's experience.
A game may have a fun plot and stunning graphics, but without appealing characters, it's going to lack the spirit and originality to haunt the minds of the players.
Game characters should be appealing, fun to play, fun to look at and fun to listen to. Good character design makes the audience think back to the moments they've shared with that character.
TRUSTED BY

START YOUR PROJECT NOW
Feel free to drop us a line and let us know how we can make your next commercial spectacular.
Don't forget to tell us about the style, duration, budget and the number of characters you have in mind for your project.
If you haven't figured it out yet or have any questions, we are always here with answers.