Reading Time:
6
minutes
Is it really happening? 
What are you expecting to encounter in the international exhibition World Expo? What if the experience enhances your expectations in a way that you've never thought? It did so for me.
Before we delve into the article,  I highly recommend that you check out the 360-degree virtual tour of the Japan Pavilion in EXPO 2020 first. How? just click here and start exploring. 
Expo: A history of adventure by global nations
Since 1851, World Expos have been taken place almost every five years. These mega-events are organized around a primary theme, the "universal challenge of our time." Official Participants of world fairs are countries and international organizations presenting solutions to pressing challenges of our time.
Expos offer a journey inside a universal theme. Each nation designs an extraordinary pavilion to showcase its scientific, technological, economic, and social achievements. Nations are intended to impact tens of millions of visitors, and they employ engaging and immersive activities as their primary means.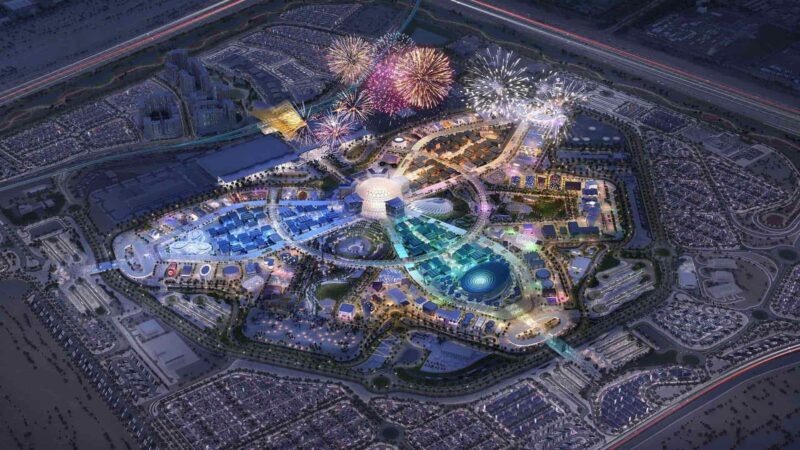 Yes! Dubai Expo is distinct around communication!
Expo 2020 is currently hosted by Dubai in the United Arab Emirates. Effective communication has a crucial role in large-scale events; however, the importance of audience engagement is even more notable at Dubai Expo due to its exclusive theme "Connecting Minds, Creating Future."
Countries benefit from World Expos as a unique opportunity to showcase themselves; therefore, engaging visitors is also a key factor for nation branding. Through national pavilions, countries bring their cultures into direct contact with foreign publics at a large promotional event. According to the Expo theme and nation branding objectives, Dubai Expo is considered a great place to look for innovative experiential marketing solutions.
My experience of visiting Expo 2020 had the most similar feeling to my idea of the book Around the World in Eighty Days. Country pavilions are gateways to culture and innovation. The Expo 2020 website indicates an unrivaled global stage for world culture. It resembled going through a real journey. Therefore, I expected a series of noble and impressive events that I was a part of. I want to throw light on the Japan pavilion. Not only has Japan been one of the most recommended pavilions to visit so far, but also, I believe there are other explicit reasons which will turn out while you continue reading.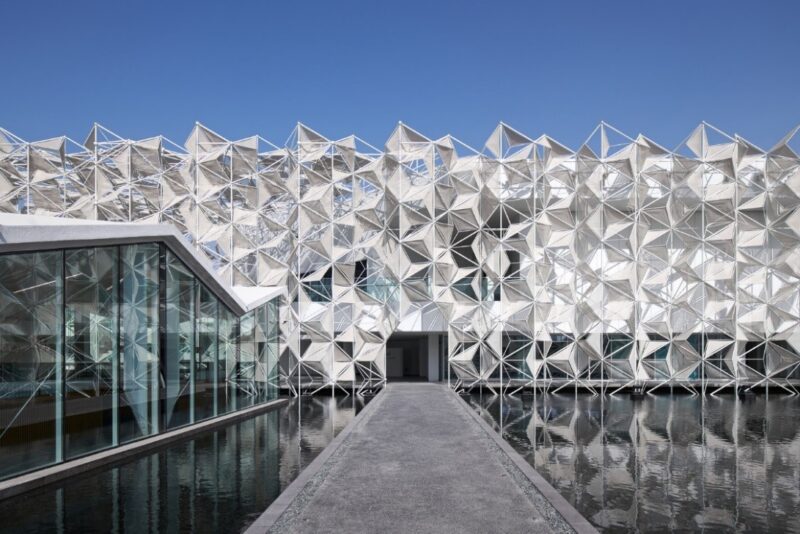 How has Japan made a dream come true?
While passing on the pathways, the first impact is created by the architecture, especially the pavilion's facade. At the Japan pavilion, you are welcomed by a white origami-like façade that combines traditional Arabesque and Japanese patterns. According to the designer, it supports the idea of connection from the Expo's theme in cultural and technological aspects. The unique structure is not enclosed; it feels easy to interact with the space. Japan's pavilion is surrounded by water, reflecting the façade and providing natural cooling to create sustainable architecture. But let's see what is happening inside.
First: This is how you are welcomed
Japan pavilion is one of the places in which each person is given a smartphone and an earphone, though, for instance, at the South Korea pavilion, you need to share your phone with your companions. Before starting the primary experience, you are greeted using Japan's hospitality customs. Japanese decorate the entrance of their houses with unique plants to welcome guests. At the pavilion, every visitor is given a different plant that appears on the screen in front of them and on their smartphone. It is an impressive personalized way of welcoming.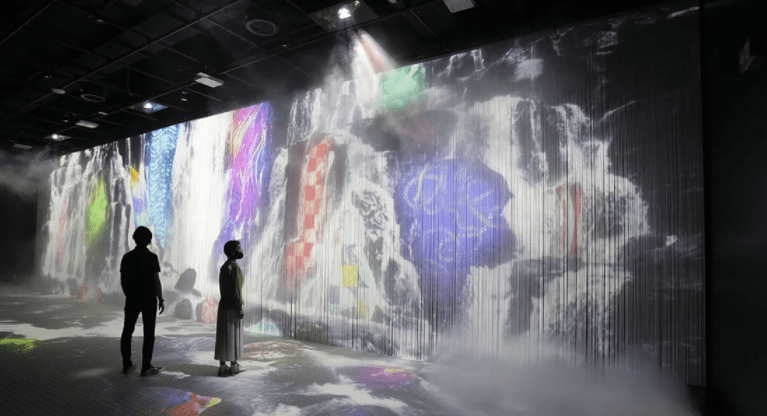 Second: The experience takes you through
Then you will walk through an artificial mist, which I can say feels like being immersed by nature in a multisensory way. Two-thirds of Japan is covered by forested mountains and hills, adequately relatable to this experience. In the first scene, you will be standing in front of a three-dimensional projection mapping show that represents Japan's natural diversity. Japan's climate has unique characteristics as it varies significantly from north to south. While watching videos of natural environments on a foggy screen in front of you, you see sea waves covering your feet. Using earphones provides a more realistic ambient sound. The quality and accuracy of representation, 3D projection, and excellent audio design create an immersive expression of Japan's nature.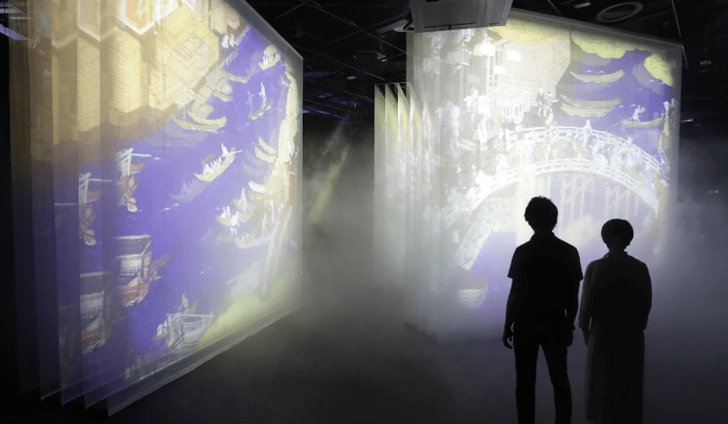 Third: You are almost immersed
At the end of the show, four seasons appear on the screen. Visitors can go through the screen to choose a season to step inside the next scene. Meantime, the phones are tracking the visitor's location. This selection affects the visitor's journey and will make it more personalized. The second scene is a space that contains four multilayer screens. Visitors are persuaded to walk through this otherworldly visual space and watch the videos. They are videos of Japanese culture and history. Different animated graphics appear on your smartphone while walking between screens and watching them. Each of these animated graphics is paired with an idea. You probably spend more time around the screens you find more interesting. You will collect different ideas related to your interests according to your location and the path you choose between screens. At the end of the scene, each visitor has his unique set of ideas recorded by his smartphone.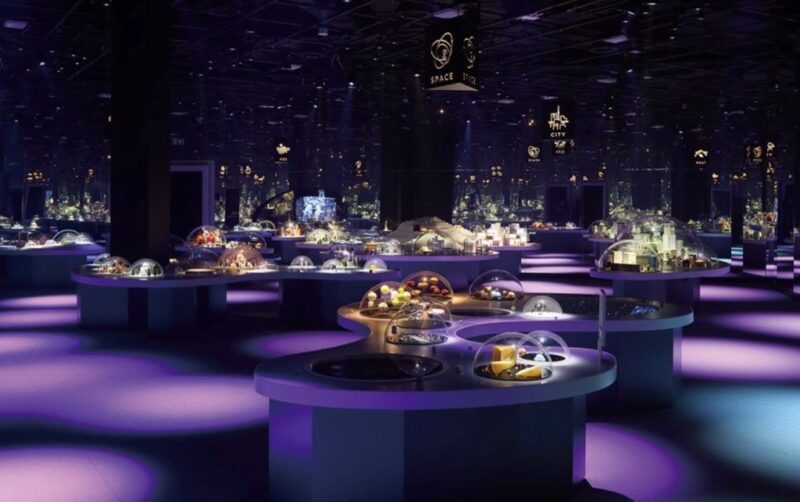 The next scene reflects the importance of creativity in Japan's culture. Although high-tech innovation has a significant role, this creativity has roots in Japan's culture. In the third scene, 120 miniature arts hand-crafted using day-to-day objects show how creativity in Japan is inspired by nature and tradition. This scene provides a personalized visit just like the previous ones utilizing an enhanced audio design technique. While the visitor walks through the scene, he will hear a voiceover about the nearest miniature. This feature creates a "Once-only experience created from visitor activity."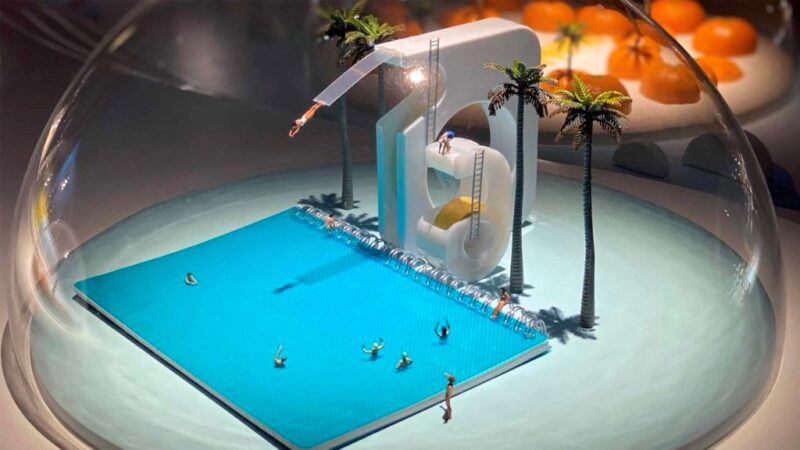 Fourth: Let's meet your immersed self
The fourth scene is an infinity mirror in which visitors see themselves in front of the environmental challenges facing our planet, such as deforestation, global warming, and climate change. The mirror makes a moment of confrontation with oneself. In art history, there are many examples where a mirror is interpreted as a medium that creates a sense. This self involves the viewer as a part of the work. In this scene, visitors cannot separate themselves from the world's challenges in concept and form. I believe this experience makes each visitor consider their responsibility for our world's critical issues. Afterward, the fifth scene tries to pave a path to a solution.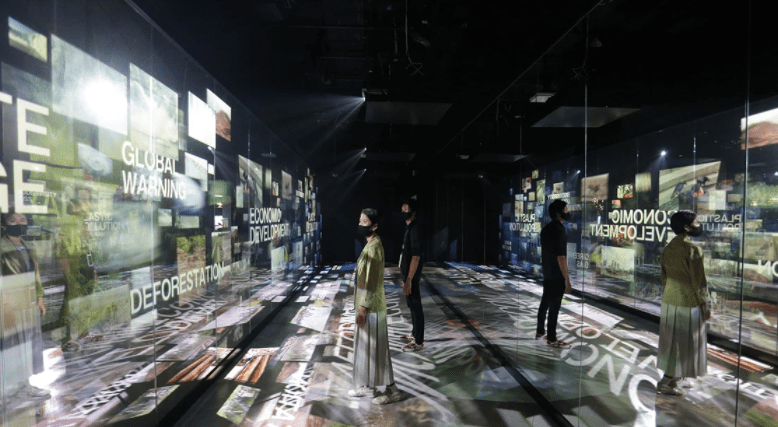 Visitors then enter a 360-degree theater in which their personalized experience wraps up in a meaningful way. What happens in this scene supports the central concept of Japan's pavilion, "Where Ideas Meet." As soon as the visitor stands in front of a big screen, his unique welcoming plant appears. Although flowers were randomly attributed to each visitor at the beginning of the visit, seeing that particular plant at the final scene in front of you feels like you are known and unique. In other words, this experience creates a feeling of hospitality.
About to end: Meaning perceived through technology-aided experience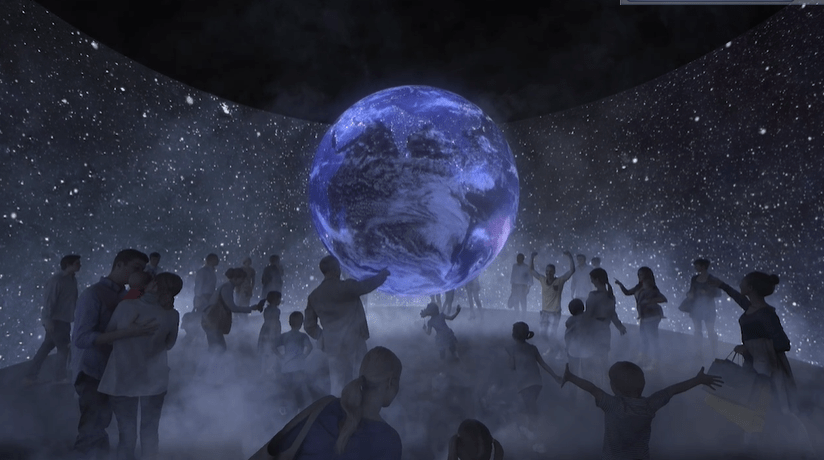 The journey at Japan's pavilion is designed to create a distinct experience for each visitor. Their smartphone records each person's walking path to go through. Data gathered from the visit (e.g., animated graphics collected at the second scene) is used to create a unique identity for each visitor based on his interest and ideas. This identity is visually generated in real-time and appears in the form of an animated character on the 360-degree display. First, visitors meet their idea-shaped character, and then it's time to make ideas meet. People with the most shared interests are invited to gather at locations specified by four different colors. Their idea-shaped character walks along with them on display. People may have ideas and perspectives in each group regarding one of the four significant world challenges raised in previous scenes. This provides new interactions which can lead to a better future through the exchange of ideas, as mentioned to be the primary goal of the experience.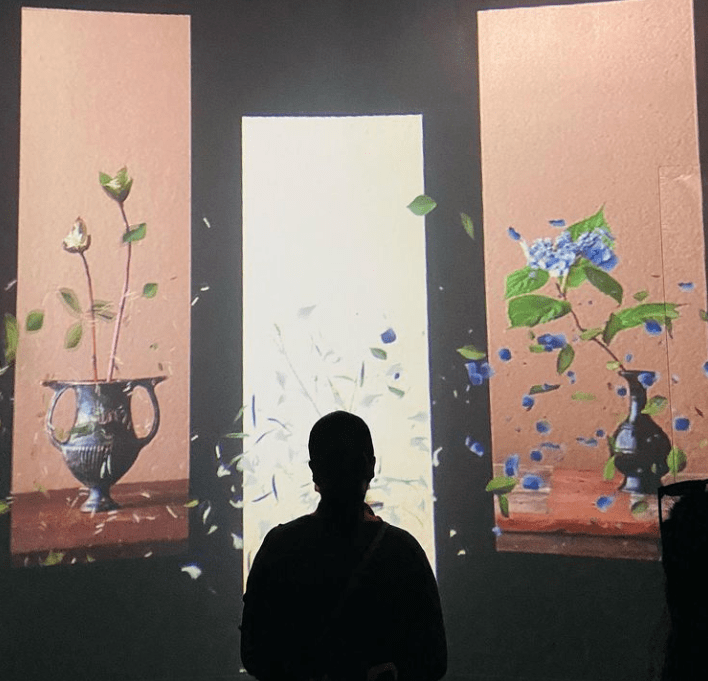 The impression: We know how it works!
New media is using the latest technologies to create new ways of communication. But what makes this communication impressive? Reports show that many people have found Japan's pavilion a success. I believe one of the reasons is integration. Taking a closer look at Japan's pavilion reveals examples of clever combination and coordination of tools and content. An indoor positioning system and personalization have been used to show the visitor that he is welcomed and remembered, which creates a feeling of hospitality. The message of "you are known here personally by your welcoming plant" is conveyed through this wise integration. To achieve the main aim of the exhibition, "where ideas meet," data technology has been used. First, by real-time animation technology, the virtual character of a visitor is created. Then idea-based characters of visitors meet in groups. It can be said that cutting-edge data technology has come with appropriate interpretation. This is another example of meaningful integration of technology and content.
It is proven that increased audience interaction, personalized experience, and technological tools are powerful techniques for new communication methods. However, it is critical that we create meaningful integration by using these ingredients to make a long-lasting impression. We believe this is the winning ticket to provide an interactive media solution.
Check out our brand character service page to see how we are helping brands enter the metaverse using a brand character.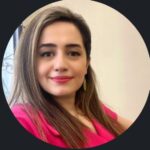 Nazanin explores communication as her life-long passion. These days, art and technology are having a novel kind of meeting. She believes, in this encounter, there are many delightful opportunities to create new media. She is responsible for designing and curating immersive interactive media to integrate art and technology in a meaningful way.