Reading Time:
5
minutes
It seems like these days; everybody is talking about non-fungible tokens or, as the bad boys put it, "NFTs." The reason for the high demand is somewhat obvious: These new valuable assets provide tremendous financial opportunities for artists and content creators to promote their work of art and creativity.
When talking about NFTs, people usually ask questions like:
How can I sell my NFTs?
Where should I begin? 
What are the best NFT marketplaces?
We suppose you already know the basic ins and outs of NFTs and only looking to learn more about the best marketplaces to start. If that's the case, welcome.
If not, we have recently published an article about the impact of this new phenomenon in digital art. Check it out in NFT digital art blog post before moving on to this guide. Now, without further ado, let's dive into the topic. I can't wait to spare the gold nuggets with you!
Why are there several NFT marketplaces?
You might ask why more marketplaces start launching when there are already enough platforms to start NFT monetization. The answer is "because each platform focuses on one specific area," or that's the way it should be.
As Harvard Business Review puts it:
It can be particularly helpful to characterize NFT marketplaces on a spectrum from streamlined to augmented. Streamlined marketplaces support a broader range of NFTs and offer more limited, generic services to sellers, while augmented marketplaces are highly specialized and provide a more full-service experience.
With that being said, you should know that the more marketplaces go online, the more chances it can create for artists like you. Therefore, if you see more companies launching their decentralized marketplace and you're confused as to which is better, take it for granted; NFTs are catching fire and so is their marketplace!
If you're an artist wanting to know more about the future of art monetization in the blockchain, head over to metaverse and animation and start from there.
What are the best NFT marketplaces?
While we think there is no right or wrong marketplace, you can always choose the best for yourself based on your needs and personal preferences. However, we have selected five of the best NFT marketplaces in various categories.
1. OpenSea NFT marketplace
OpenSea.io boldly describes itself as the largest NFT marketplace and is currently the largest NFT trading website. The platform offers a wide range of NFTs, including Art Infts, Crypto Domains, Virtual Worlds, Trading Cards, Sports Cards, and Miscellaneous Collections.
These assets are on the Atrium and Polygon networks and have ERC721 and ERC1155 standards. You can also buy or sell unique and popular digital assets such as Axis, CryptoKitties, Decentraland, ENS names, and more.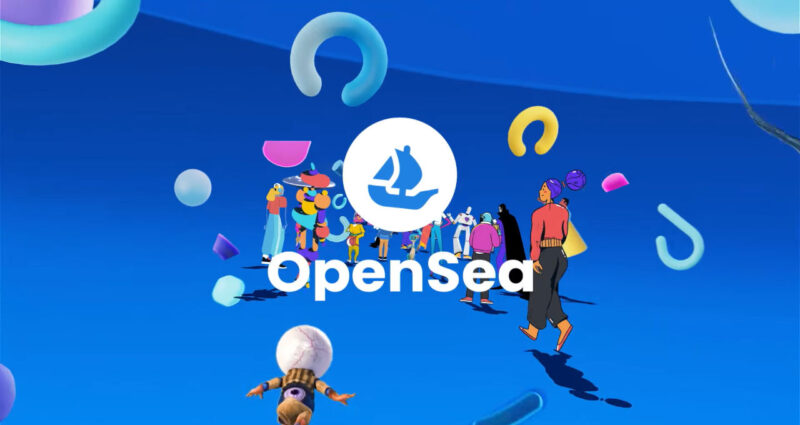 NFT developers can create their NFT using the mint multiplication tool of the OpenSea website. Unlike many NFT websites, you don't need to pay any fee to create a new NFT, so the cost of creating NFTs and determining their price is still free. If you want to sell your NFT on OpenSea, you can sell it for a fixed price, make a discounted price list, or create an auction list.
2. Raribale NFT marketplace
Rarible is an NFT marketplace whose "owners" own the ERC-20 RARI token. Rarible donates RARI tokens to active users of the platform, who buy or sell in the NFT market, and distributes 75,000 RARIs each week. This platform has a particular focus on creative assets.
Developers can use Rarible to create new NFTs and buy and sell their work, including books, music albums, digital art, or movies. The creator can even show a brief overview of his work to everyone who comes to Rarible but restricts the buyer from receiving the entire project. Rarible site trades in art, photography, games, meta-music, music, domain, memes, and more.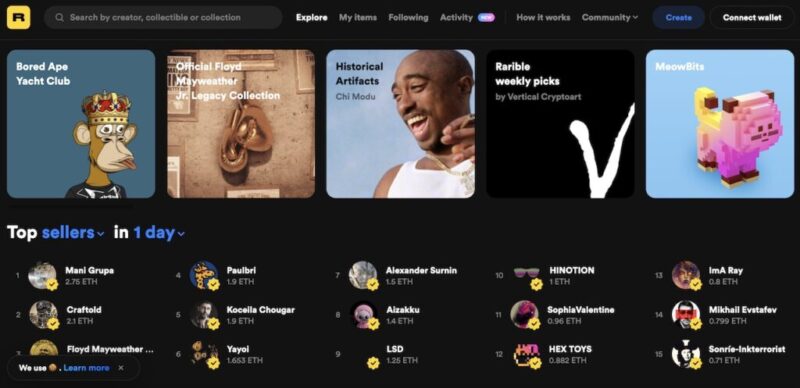 3. SuperRare NFT marketplace
SuperRare's online shopping site focuses heavily on the market for unique and single-copy digital artwork. An artist creates each work of art on the net and encrypted as a collectible digital piece that you can own and trade. This site considers itself like Instagram to sell works of art and offers a new way to interact with art culture and collect art collections on the Internet.
Every work of art in SuperRare is a digital collection – a digital object encrypted and tracked in a blockchain. SuperRare has created a social network at the top of the market. Because digital collections have a clear track record of ownership, they are well-suited to the social environment.
All transactions are performed using Ether, the native cryptocurrency of the Atrium network. Currently, SuperRare works with a small number of artists. However, you can use a form to submit your artistic profile to be considered for future development.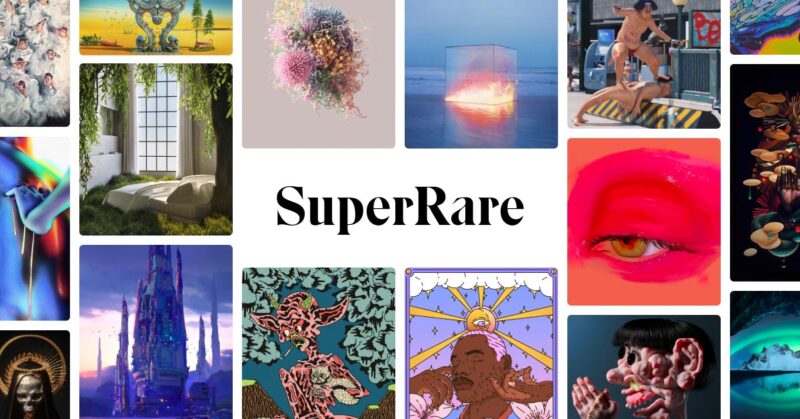 4. Foundation NFT marketplace
The Foundation site is a specialized platform designed to bring together digital creators and collectors to promote culture. It calls itself the New Creative Economy. Its primary focus is on digital art.
In their first blog post on their website in August 2020, they announced a free call for developers to experiment with cryptography and play with the concept of value. They called on the creators to "hack, subvert and manipulate the value of creative work."
Whenever an NFT is sold on this site, the artist also accounts for 10% of the work's future transactions. For example, the original artist receives 10% of the value whenever a collector sells that work. This feature is also available on most online sales sites such as OpenSea.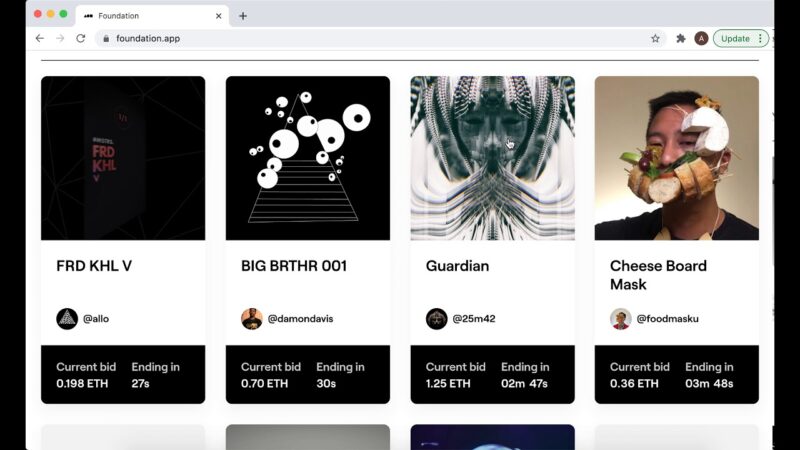 5. KnownOrigin NFT marketplace
KnownOrigin has less trading volume compared to previous stores. The store has a turnover of $ 7.5 million and, like Superhero, aims to provide a select, gallery-like platform for NFT experts. All its art files are stored in IPFS, which offers more security.
This store is very focused on digital artwork, and it does not contain strange avatars and funny monsters. Using KnownOrigin is very simple. All you have to do is attach it to a wallet such as Metamsk or Formatik and then place a quote on your favorite works.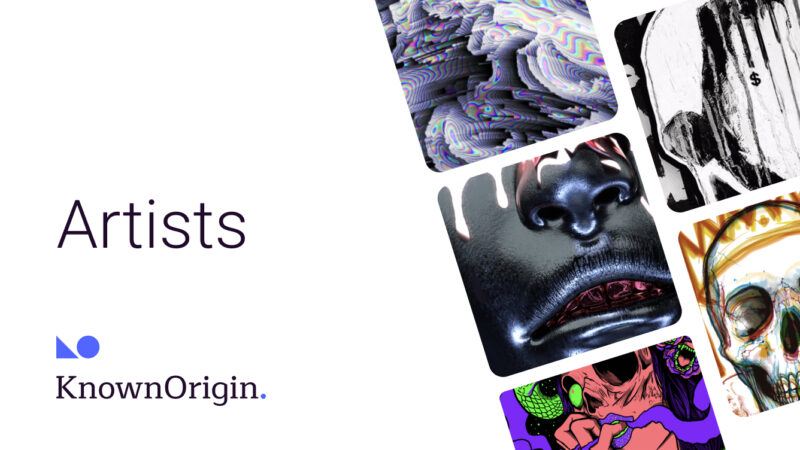 Short answers to your most frequently asked questions
As people get more familiarized with NFTs, we know that more questions pop up in our heads. So, in this part, we'll do our best to answer as many questions as we can are there in the wild west.
What is the best NFT marketplace for beginners?
We should say it's OpenSea because signing up is easy and can be done by connecting your Metamsk wallet or other wallets. After securing the wallet, buying NFT is straightforward; search among NFT collections, select your favorite token, and enter your bid price. Wait for the seller to approve your offer, and Voila!
What is the best NFT marketplace for artists?
Rarible and SuperRare could be the best marketplaces for artists because they focus on creative assets. However, if you're an artist, you can start with any of the ones we told you.
Do NFT marketplaces need crypto for conducting transactions or can we use common currencies?
An NFT marketplace platform is a decentralized platform that allows users to create, buy, sell and store non-fungible tokens. Therefore, they mostly only accept cryptocurrency payments and others catering for standard payment methods, including credit cards and cryptocurrency (including stable coins).
And the list goes on… what are your questions about this subject? Let us know in the comment section, and we'll be back with answers!
Are you an artist looking for help in NFT creative services?
We know there are great opportunities for artists and content creators interested in monetizing their NFT. If that's so, we can help. We are a character-driven animation studio creating 3D and 2D animation and character design assets for a wide range of applications in the entertainment industry. If you're interested, check out our portfolio on character design studio page and contact us for any inquiry.
Check out our brand character service page to see how we are helping brands enter the metaverse using a brand character.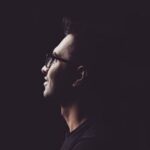 Arash is the equivalent of Buzz in Toy Story when he goes to infinity and beyond, but never comes back! responsible for our blog and content marketing efforts, he always delights the audience with his tenacity and passion in creating the extraordinary.