Reading Time:
9
minutes
There's a big reason behind WHAT Santa will leave at the Christmas tree after crawling through our chimneys.
He carries them all the way from the North Pole, but he's not the one who chooses what we'll find under the Christmas tree.
Even bigger than the World Cup, Christmas is a priceless opportunity to tell people a heartfelt story and charm them with memorable ads.
Most of the sales are generated in the last four weeks of the year, so brands seize the opportunity to create brand awareness and gain their customers' trust while wishing audiences a happy holiday in the process.
It is the biggest shopping season of the year, after all!
And over 160 countries celebrate it!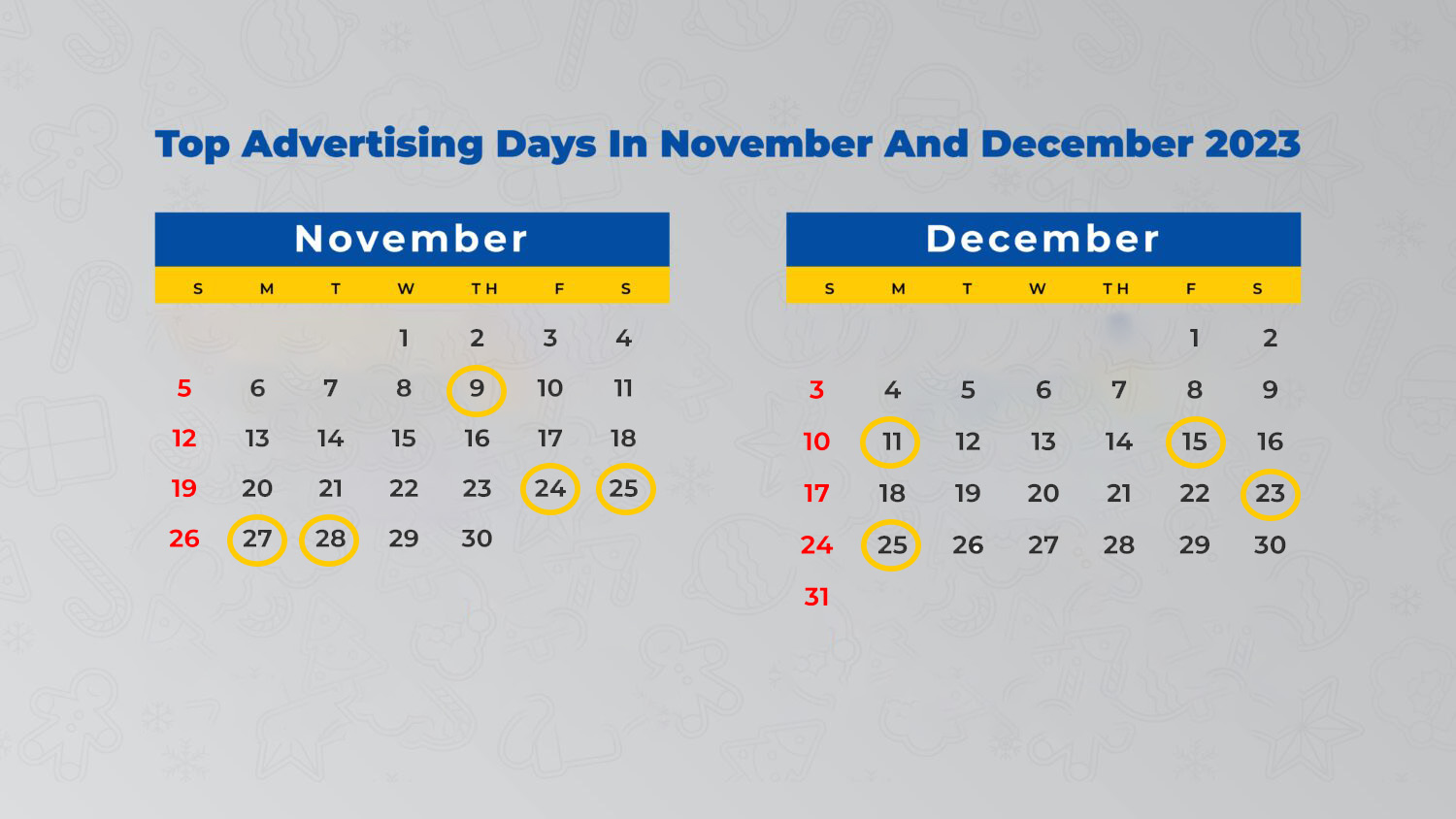 Related to their products/services or not, brands have come to the understanding that great ads help them connect to the audience and hit their marketing goals.
Marketers in almost every industry spend the biggest amount of their advertising budget for the merriest holiday of all.
Before diving into the details of Christmas advertising, let's see how the advertising situation is for the holiday season.
Holiday season advertising (By numbers)
For countries that celebrate the birth of Christ, commercialism reaches its summit for holiday season advertising. Other well-known celebrations that experience this are Halloween, U.S. Thanksgiving, Hannukah, and Kwanzaa.
For both the retail and advertising industries, the holiday season is often regarded as the busiest period of the year with trade normally beginning on Black Friday and peaking around Christmas.
In the U.S., holiday retail sales were taken to $886.70 billion in 2022 and are forecast to grow between 6% to 8% in 2023.
What's more, in the first half of 2022, retailers in the U.S. spent close to $2.7 billion on ads, and going into H2 2022, they steadily increased that number.
Judging by the data that's available so far, this is how 2021 compares to 2022 in America's ad spending: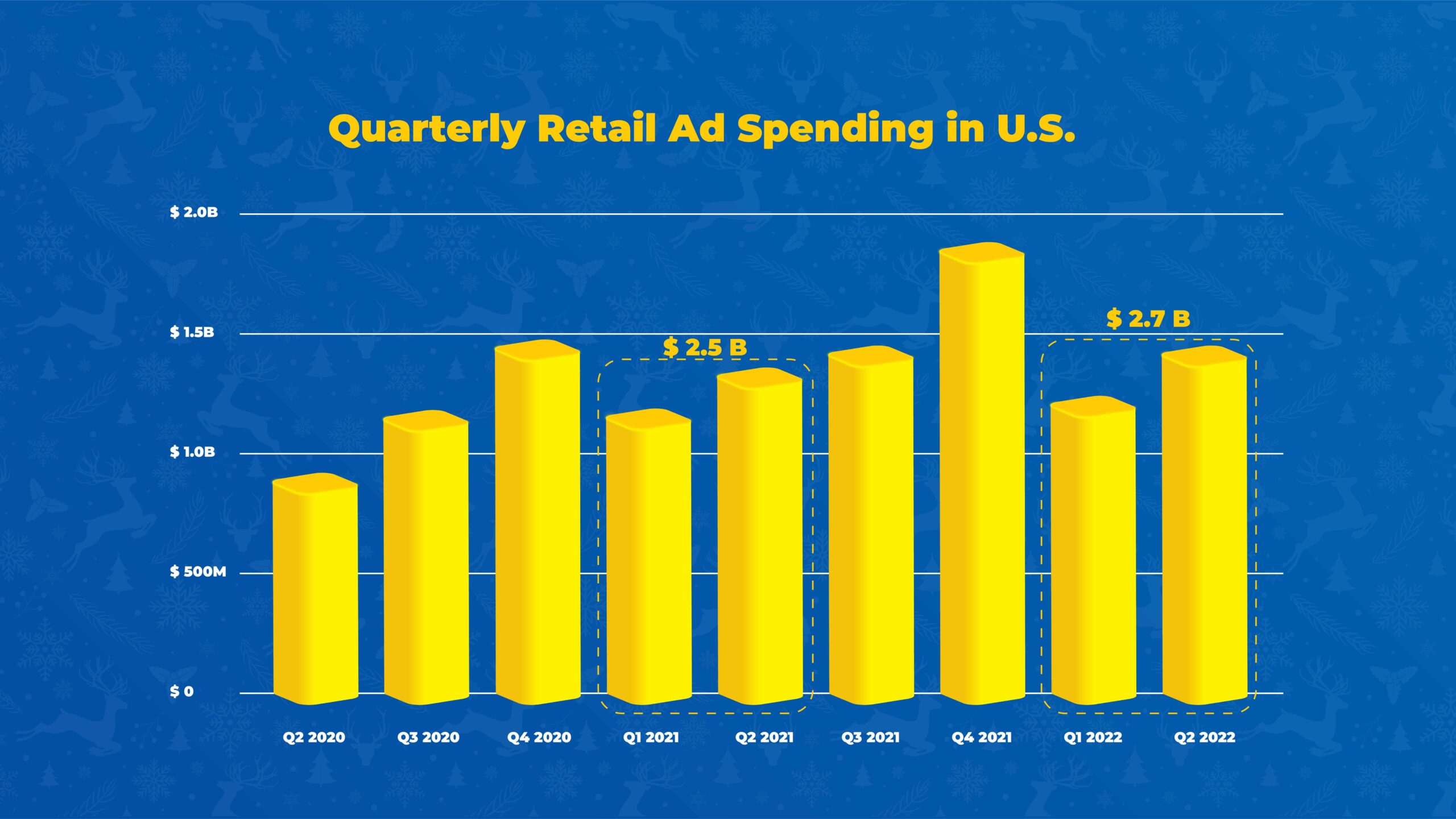 Meanwhile, in the UK, the country's 2022 advertising market is expected to advance 9.2% to a total of £34.9 billion by Expenditure Report/Warc, plus a further growth of 9.3% in 2023.
So far, things are looking up. The encouraging ciphers and stats are good news for advertisers looking to slide their way into people's hearts at Christmas.
But there are two questions we need to find the answer to before deciding to launch our Christmas adverts.
Are people in the festive spirit as much as before?
Generally, as people get into their festive mood, they tend to spend more generously for others and themselves. Most consumers — 74% — told PWC they will probably spend the same or more this holiday season as they did last year.
Even though the birth of Christ brings people together to enjoy themselves and share love & happiness, there are many things going on in different parts of the world that might put us in low spirits.
According to an ONS report, UK's annual food inflation was 14.6% in September 2022. This was very difficult to digest for a nation that'd experienced controlled prices in the 2010s.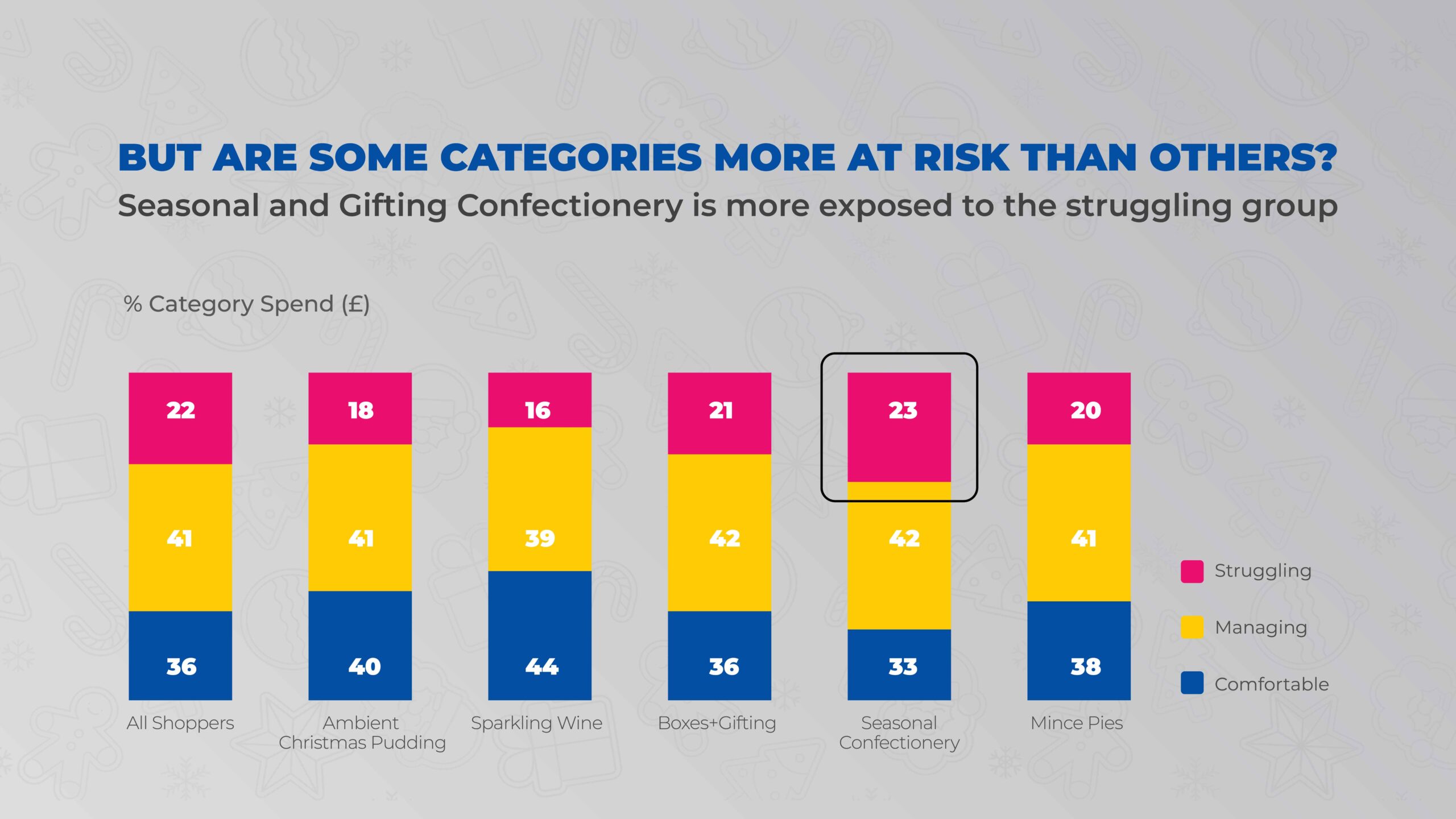 As for the U.S., inflation increased from 1.4% in January 2021 to a whopping 9.1% in 2022.
Or in February 2021, the pandemic lead to 22.7% of French reporting symptoms of anxiety and depression.
These numbers have opened the eyes of advertisers to put ongoing crises into consideration.
The media sector is also affected by these constraints with increased media expenses for advertisers.
Moreover, firms that do win the battle of eyeballs and attention will be kept busy with the struggle of having enough stock to satisfy demand, especially in countries with supply crises.
When is the best time to run Christmas ad campaigns?
There's no one answer to this question.
In an interview with MarketingWeek, supermarket chain Morrisons said:
"Everyone is getting earlier and earlier. Last year we were one of the last ones and I felt that was inappropriate. We reflected on this throughout the year and wanted to make sure we are in line with everyone else to ensure our customers get the chance to see our advert at the right time."
This checks out.
Research shows many U.S. shoppers start their Christmas shopping in November and many had intentions to do it around October in 2022 (Even though, according to NRF, 62% of them eventually buy their gifts in the week before Christmas).
Marks & Spencer's also says that 'Christmas' was the most searched term on their website in September.
Many shoppers get in the 'Christmas mindset' earlier and prepare for it by planning their budget with a head start. In response to this, retailers have become keen to get the most out of this period by helping consumers spend money from their budgets in a sequenced way.
Knowing this, we're now all set to know what makes for a good Christmas commercial.
Tips for an inspiring Christmas advert
1. Tap into emotions
No matter how beautiful your ads are, they probably won't be remembered without emotional elements.
Inject concepts about family and community in your holiday season adverts to speak to your audience on a deeper level. Christmas is a time of giving and sharing happiness, so don't shy away from creating moving scenes that convey this message.
🎅Father Christmas tip:

Story is a key element of successful adverts. Storytelling in animation grants you endless possibilities to show what you imagine.
2. Frequently flash your brand's name
If you offer a tangible product, show it to your viewers a few times depending on the length of your commercial video. This also applies to the name of your brand. Let's say your shop, 'Dandelion delights' sells candies of all kinds. Select one or two of your products and/or your shop's logo to appear in the video and a couple of good times for the viewer to subconsciously remember them.
In response to people criticizing technology and each other for staring at smartphones all the time, Apple made a creative ad and made a hero out of the iPhone by brandishing its utility. In the process, they showed us the product multiple times.
3. Be consistent with your brand's message
What identifies your brand as it is and the messages you send to people can't differ. If you're all about thinking differently and being unique, giving give 'ordinary' vibes on social media and in advertisements will result in customers losing trust in you.
Try to always be consistent with your voice and message while answering customers' needs.
We've recently created a Christmas commercial for PETA (People for the Ethical Treatment of Animals). It tells the emotional story of Toby, a young, blessed turkey that was welcomed into a family of vegans that spared his life for Thanksgiving, and sends a message with a tone the brand's always has spoken.
Watch it and tell us in the comments what you think!
4. Go multi-media
Gone are the days of having the job of entertaining viewers only on a TV screen. 36% of Americans now have 3 digital devices!
Today's consumers have one eye on their television and the other on their smartphones, searching for things that had caught their attention on the former. They will even go for their tablet or computer if available.
What advertisers can do is launch their commercials on multiple platforms and media to get the most out of their ad spend.
5. Add value
There are plenty of brands that offer what you offer. Your competitors know about the power of advertising too, so they'll try to be on their A-game as well.
If you want to stand out and steal people's hearts, you need something more than just good products. One of the key factors that separate good ads from great ones is value. People respond very well to concepts such as family, unity, sharing, and kindness. Using them will create a base of customers who respect your brand, relate to it, and establish a real connection.
6. Avoid addressing ongoing crises
Issues like COVID and inflation drain people down. While we can't turn a blind eye to these problems, it's best to avoid them at a time of year when it's time to take a break from all the hardships and enjoy the festivity.
🎅Father Christmas tip:

Use the ongoing crises to your advantage by telling a story of how people get through tough times and mark a joyful ending in Christmas.
7. Make it clear, not complex
With all the ads people see each day, they've developed a short attention span for what interrupts their programs. The first 20 seconds of your ad will let people decide if they want to see it or not.
🎅Father Christmas tip: 

To have the most maneuver room for creativity and briefly deliver complex messages, try animated ads!
8. Remind people of their options
If your brand isn't a luxury brand, including low-priced options in your commercials can help you, particularly when a country's economy has been hit and people are delaying their big purchases.
You can identify times when people decide to spend less on non-essential items by studying surveys. Reminding them of cheaper products lets you keep selling what they can comfortably afford.
9. Include a call-to-action
A call-to-action or a CTA is a text, visual, or audio prompt that usually comes at the end of content with the aim of inspiring the viewer to take the desired action. You want to sell your products, don't you?
Then tell people to get them! It might sound pushy or cheap at first, but this affects the customer's behavior, encouraging them to take action.
Of course, your CTA doesn't have to be in the imperative form, and it's not mandatory to include one. Simply telling people that your product's now available, how they can get it, or reminding them of special offers is a great way to do it.
Kmart's 'Not a Christmas Commercial' ad includes a very good example of what we're talking about here: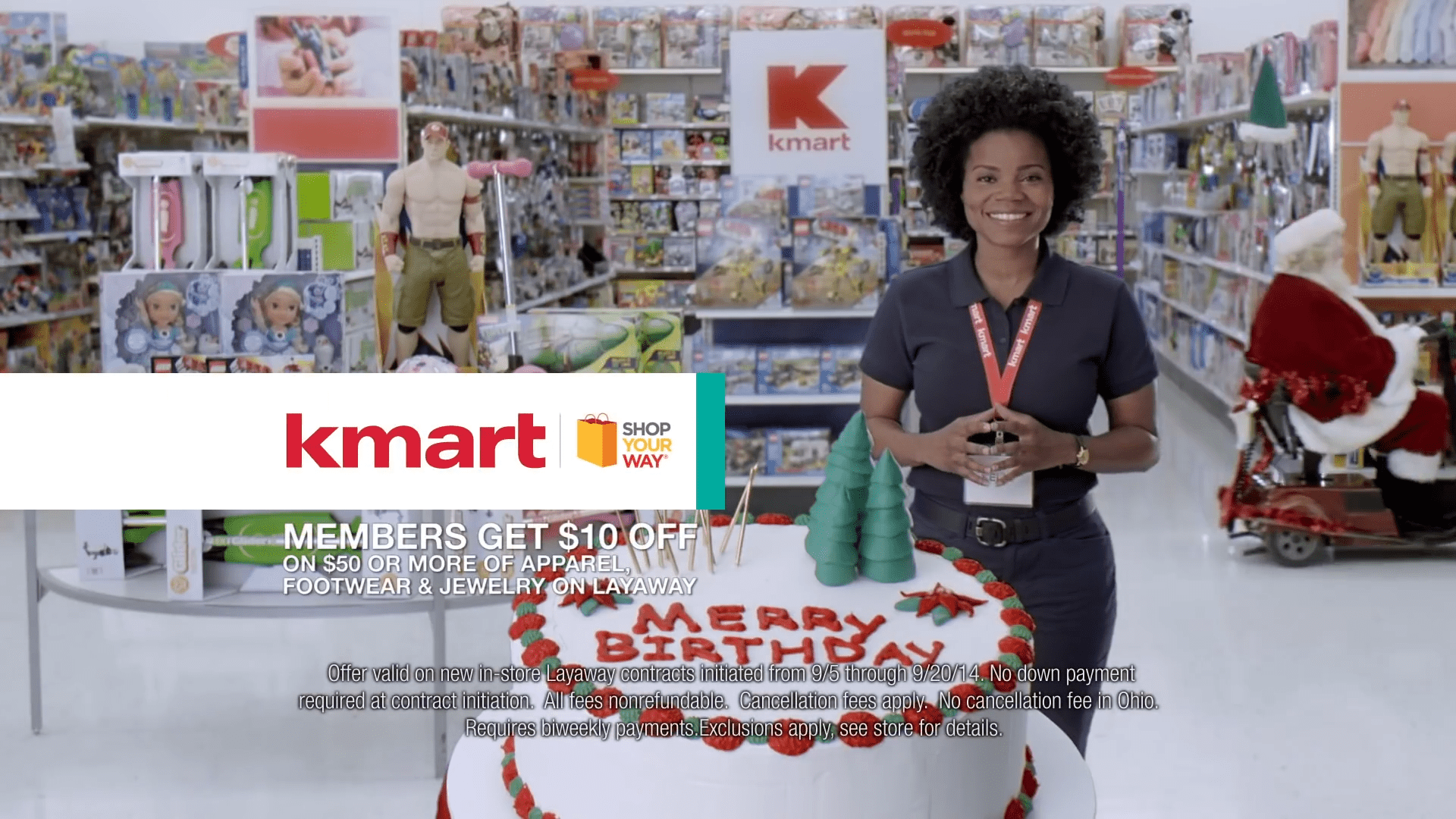 10. Promote charitable aims
Why not? Isn't Christmas about giving and sharing happiness? This is a wonderful message and identifies with the festivity. So, improving health and education, protecting human rights, and giving back are all things that resonate with the audience.
Top 10 list of best creative Christmas commercials
10. Aldi – Kevin the Carrot's Home Alone
This Home Alone remake tells the story of Kevin, the Christmas mascot of discount supermarket Aldi with great visuals. What we particularly love about this Christmas ad is the ending and the mention of the 'Trifle Tower', an Aldi product.
9. John Lewis – The bear and the hare
In probably John Lewis' most heartwarming Christmas advert, we couldn't finish this video with dry eyes. The spectacular music, astonishing animation, and loveable characters were all used to tell the story of a bear and his hare friend seeing Christmas for the very first time.
8. McDonald's – ReindeerReady
Besides serving fast food, McDonald's is specialized in making ads with the purpose of repeating that it's for everyone.
In the advert, Santa's lovely raindeers are craving some carrots, and where do they finally get them from? A McDonald's restaurant!
This ad impressed us with its smart way of advertising a healthy product by a fast food chain, something many of them have been leaning towards to attract more customers.
7. Coca-Cola – Give something only you can give
Whenever we have a top ads list of any category, Coca-Cola deservedly claims a spot. Using dads and showing how far they're willing to go for their children has always put us in our 'feels'. In this video, we see what the child has reciprocally done for the father in one of the most remarkable endings ever.
Normally, Coca-Cola is about having fun and sharing it with friends and family with a refreshing bottle of iced coke. This time though, they were more ambitious and sent a beautiful message -done, of course, by displaying the brand's name and the color red.
6. M&S – Paddington & the Christmas visitor
M&S are giants when it comes to Christmas advertising.
This ad is almost strong enough to make it in a Paddington movie as one of the adventures of the marmalade lover. It's funny and sends a very Christmasy message of spending the festivity well.
5. M&M's – Faint 2
Red goes down after realizing Santa's real. Then, Santa goes down after realizing M&M's characters are real.
Yellow is now left with the task of 'saving Christmas'. Not the brightest guy for the mission, right?
Weirdly enough, not only he manages to save Christmas, he makes it even better! We appreciate the effort, Yellow, but you were lucky it was Christmas, which is shown by M&M's as a self-healing festivity.
4. Sky – E.T. came home for Christmas
The alien star of the 1982 blockbuster is back. This time, meeting Elliott's children and taking them on a brief adventure during Christmas.
We knew it was going to be an epic advert after realizing E.T. has been featured in it, and we're glad it held up to the expectations.
E.T., whose family is away somewhere in space, keeps looking up and says the word "sky", a genius move by the broadcasting company. This, together with the sole presence of E.T. and great visual effects, made this ad one for the books.
3. Doc Morris – Take care of yourself
"Who's cutting onions?"
Doc Morris is an online pharmacy with more than 150,000 products. For their Christmas commercial, their mission was clear:
Mix health with the spirit of Christmas.
Although we normally consider brand/product demonstration a must, the story of this Doc Morris ad is so powerful and touching that it will forever etch the brand in people's minds.
2. Macy's – Space station
"If they can't be with you on Christmas, bring Christmas to them."
Honestly, what's a more moving Christmas message?
We've noticed a pattern of introducing a number of hardships and difficulties before introducing a heartwarming end in most Christmas ads. A family who is bound to arrive late to celebrate Christmas, family members who are separated, someone being left out, and so on. Smart advertisers wrap up the obstacles and bring them to a happy ending; One that everybody gets to enjoy one way or another.
Well done Macy's. Not only you made us cry, your ad will be remembered for years.
1. Loterías y Apuestas del Estado – Justino
Again, the power of animation doesn't come as any surprise to us.
The protagonist in the 4-minute animated video, who seems like a caring father, is actually a night guard named Justin.
Justin's job may be boring, but he finds ways to have fun with the mannequins of the factory he works in and, on the side, surprises those who arrive in the morning.
Nothing is shown to us about his past, but he's introduced as a 'loner', working the night shift in a tiresome place.
It hits us even harder to see Justino's reaction after finding out the factory has won the El Gordo lottery, but he'd forgotten to put in his share for the syndicate.
His colleagues don't even seem to know he exists, but in a move that makes the most sense during the holiday of giving and sharing, Justin's fellow workers surprise him in a way of their own.
Planning for a Christmas ad of your own
Now that you know the importance of Christmas ads and have some information about the marketing effort, it's time to choose a trustworthy animation studio to work with.
Look at your partner in mind's work samples, communicate with them, and get a quote of what you or they have in mind. They'll help you bring your idea to reality and make a creative Christmas ad that deeply engages with your customers.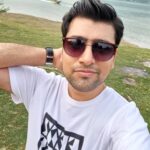 Allen is the Senior blog writer at Dream Farm Studios. In the five years he has been writing for startups and big companies, he challenged himself to learn all he could about digital marketing and finally became a key member of the Marcom team. When he's not doing all of that, you can find him teaching different languages, learning new recipes, and watching cool documentaries about, well, anything!