Reading Time:
7
minutes
With everything going on in the world regarding the Covid pandemic, outsourcing in the animation industry has taken its toll. Nowadays, more than ever before, many animation studios, individuals, and freelancers are outsourcing different parts of their animation projects to everywhere in the world. But like everything else, animation outsourcing has its do's and don'ts. If you run into a problem, your time, workforce, and financial resources will go to waste! 
With an experience of over 150 outsourcing contracts, Dream Farm Studios production, sales, and marketing teams have put together their minds and compiled a complete guide for you. 
We've tried to cover everything, but don't hesitate to drop us a comment if you feel like asking a question from us. We always keep this post updated with new and useful content. So without further ado, let's start with the basics.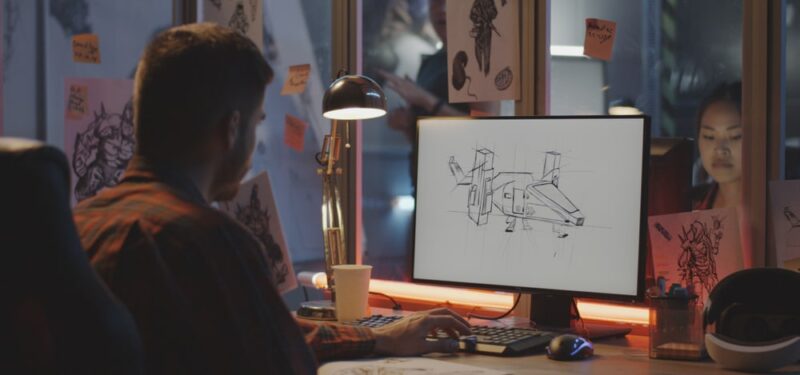 What is animation outsourcing?
Outsourcing happens when you assign any amount of your work or project to an external entity, whether it's a person or a company. Different parts of the animation pipeline are usually outsourced through a work contract when it comes to animation. 
If you don't know anything about the animation pipeline, we already have published two in-depth guides about just that:
For example, many studios prefer to finish pre-production, such as scriptwriting and storyboarding, and then send over the files and data to the studios for production and post-production. Finally, with some commenting, they receive the final work 
It's worth mentioning that not every studio desire outsourcing like this; some assign complete animation work from A-Z or just the project's post-production. 
Why do studios need animation outsourcing now more than ever before? 
It was recently estimated that the worldwide animation production market is believed to proceed around a whopping $50 billion and $70 billion. This number is on the rise when new studios started working from home because of the pandemic, and we can predict, between the years 2021 to 2025, animation outsourcing contracts will reach their peak.
It's worth noting that even famous tv shows like "The Simpsons" and "Futurama" have resulted from extensive outsourcing teams completing the pipeline.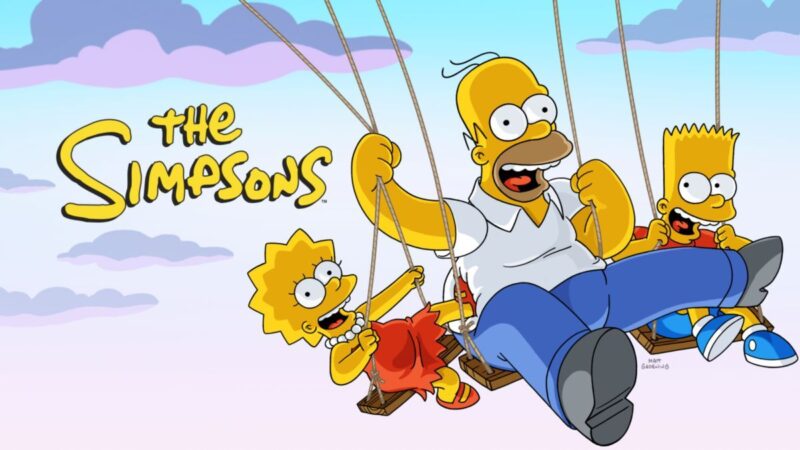 Outsourcing in the realm of creative work isn't a new trend. Decades ago, when Hollywood studios were flooding with high demand, they began sending some parts of their pre-production work to lower-priced overseas studios to lower the cots. India, South Korea, and the Philippines were often among the places where most of the work was outsourced.
The first hunch you might have about outsourcing is that it might reduce the quality of the final product. However, according to Wikipedia, many entertainment giants such as Walt Disney, Warner Bros, Cartoon Network, and IMAX are beginning to outsource an increasing amount of their animation production to different countries and studios. The reason is clear; the higher the production rate, the more funding the studios will receive for new projects. 
In other words, outsourcing any animated work is a win-win scenario for both parties. If done right, it reduces the costs and accelerates the production rate dramatically. With that being said, let's see how the process of finding an animation studio works and how you should do it. 
What are the most common animation outsourcing services? 
1. 3d animation outsourcing
3D animation is the most realistic type of animation because of the significant addition of different techniques of adding depth. The life-like characters, and it is far easier for 3D animators to create changes to a specific scene because they can move or transfer an object more comfortably. Check out our 3d animation studio page for more info about our portfolio.
2. 2D animation outsourcing
2D animation is a versatile medium that's finding its way in every kind of entertainment and media these days. Whether in TV shows, indie video games, feature films, advertisements, mobile apps, and websites, 2D animation is here to stay.  Please take a look at our 2D animation works on 2D animation studio. 
3. Game assets 
More technically advanced with high graphics games are being developed regularly, and with that, companies can't keep up with the unprecedented demand of creating the most visually astounding games. The solution is clear; game studios are now partnering up to help each other with production. 
4. Character design 
The purpose of creating a brand character is to accelerate customer interaction with a product. More brands realize the need to make animated commercial videos to communicate better with their target audience and drive more leads.
5. Commercial animation 
It's scientifically proven that animation engages the mind and feelings of the audience. Displaying your product and its benefits effectively can increase customer conversion rates. 
Want to find an animation outsourcing company? Follow these steps and you'll hit the jackpot!
Let's consider an imaginary scenario that a lot of people go through: You've spent a great deal of time in your animation studio meetings and after some time, you've decided:
Animation outsourcing is the best and only option for you
You're thinking of finding an animation outsourcing studio but you don't know how to find one. There are simply too many studios to work with and there are many factors you should take into account. In short, it can't get more overwhelming. Don't worry though as we've experienced this dilemma ourselves but we're here with a solution:
In this short guide, we introduce some typical and effective ways you can use to find an animation outsourcing studio company that's the perfect fit for your needs.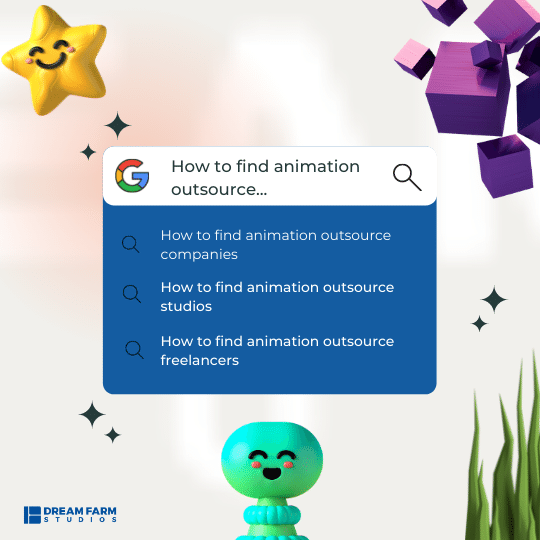 2 important tips before finding an outsourcing animation company
Let's suppose it's your first time thinking of outsourcing your animation project. It might sound reasonable to go and start your work without knowing anything about the process. But the ups and downs have shown us that we need to know some key things before beginning your outsourcing journey:
1. Get to know the animation industry first if you want to be taken seriously and not sent out the door when you go and pitch your idea/script. Artists have an abundance of ideas; good artists are busy, they can't spare time on someone who has no idea where, to begin with, and certainly not someone who doesn't know the process.
2. If you have an idea, your chances are 0%, if you have a script, your chances are 1%, if you have an experience that can indicate the fact that you can keep those scripts coming in at a consistent rate and of the same quality, now we are talking. 
If you follow these two friendly recommendations, you will always get due credit and payment for your work. There's little scope for people cheating since everything is digital these days, and files can always be tracked and traced, so you'll always win in court if something rare and unfortunate happens to you.
Should I outsource my animation to a freelancer or an animation studio?
When browsing different websites and portfolios, you might be tempted to partner with individual talents or freelancers because they charge you less. Sites like Fiverr or Upwork offer great service for clients looking for freelance work. However, when it comes to infrastructure and communication consistency, agencies and 3d animation studios outperform freelancers significantly. Simply put, team-oriented creatives have all the necessary programs, tools, and personnel to complete your project for maximum success. So the next time you're left with a dilemma to either choose a freelancer or a studio, refer to your common sense!
Outsource animation companies; 5 easy ways to find the perfect studio for your project
1. Use Google search to determine the best sites in the eyes of Google
First and foremost, type the name of the service you're looking for. Look at the list of all the websites on the first page, browse their portfolio and see if their work is aligned with your desired style. 
If you're looking to work with a local brand, type the country or the city at the end. For example, if you're from Canada, you might use a phrase like "animation studio in Canada" to find some local business to work with. 
In some other cases, people find relevant studios based on a query that's related to animation. look at the example below: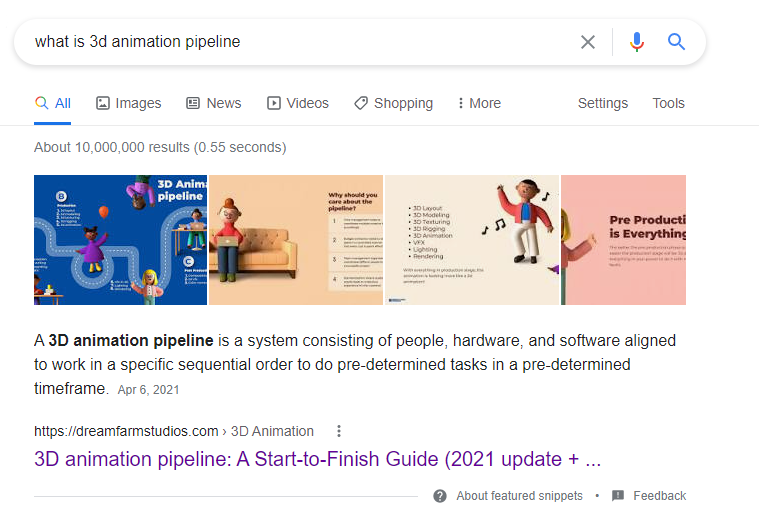 Some studios might not use Search Engine optimization techniques and, thus, might not get shown on the first page. Ideally, it would be best if you chose a studio that is good at content marketing. For example, you can check if they have a blog section and see if the content is any good. These are some of the basic indicators of an animation studio that might be best to work with since they consist of different teams of marketing and sales professionals. 
2. Use directories to read reviews and testimonials from previous clients
One thing that makes things easier is to use different directories that list a designated number of animation studios according to different criteria. Some of these sites have a specific procedure for reviewing and verifying the studios. What's good about directories is that each animation studio has a specific page that lists all the valuable information for outsourcing. You can check all the features of an animation studio like the type of animation, price range, style, services, and portfolio.

The most important and probably the most helpful is the reviews section where you get the chance to see the overall performance of one animation studio in the words of their customers. Using different directories that list studies based on different KPIs and the ability to use filters is a great opportunity for you to find the best animation outsourcing studio.
Take a look at the Dream Farm Studios Clutch page to see all the mentioned points in practice.
3. Use freelancing websites to see the rough price range for different services
While having a website is a more professional and logical way of deciding on a studio to start outsourcing, you can always check freelancing websites to find some great talent too. Our animation studio is also active on the freelancing website Guru, and we have received different outsourcing projects from all over the world.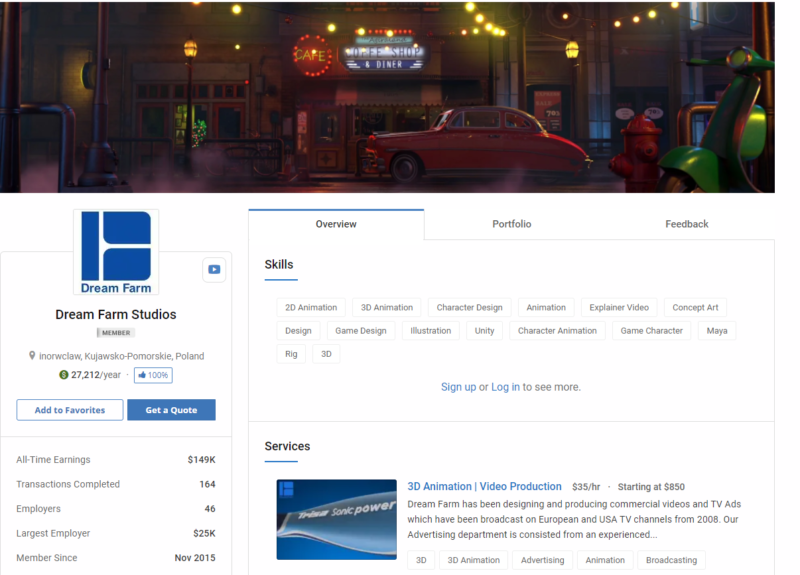 4. Use social media to check content marketing and public relations best practices 
Some animation studios are partially active on their website and freelancing websites but are posting consistently on social media. If you're looking to work with one of them, It's usually a good idea to check their social media accounts. Seeing how they perform on social media in case of their public relation engagements, content creation, different advertising campaigns, press coverage can help you choose the best animation outsourcing company to work with.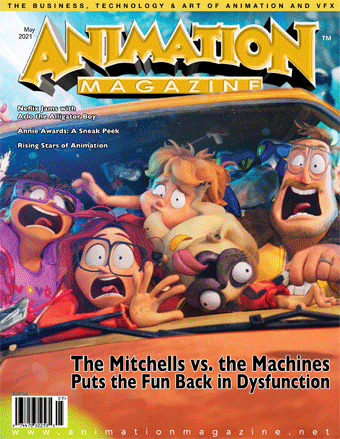 5. Press Coverage and Animation media to pick the best studios 
With the internet having a huge impact on the world, It's changing everything from research, promotion, entertainment, and information gathering. Some animation magazines are regarded as the authority in the animation industry and thus, provide authentic and in-depth reviews and interview with different animation studios. You can always read the featured posts where the CEO is talking about the vision and mission of the company and what kind of clients they're looking to work with in the future.
As an example, we've recently done a coverage with Animation Magazine, the leader of animation news in the world. Check the coverage at the ANIMATION MAGAZINE interview with Dream Farm Studies.
The Wrap-up
With an unprecedented rise in animation production, more companies are falling short of having enough time and resources to produce high-quality animation. Still, Animation outsourcing companies are a great way to complete projects without rejecting any offer. Hopefully, you have realized by now the importance of knowing how to find an animation studio that's aligned with your style and budget.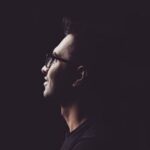 Arash is the equivalent of Buzz in Toy Story when he goes to infinity and beyond, but never comes back! responsible for our blog and content marketing efforts, he always delights the audience with his tenacity and passion in creating the extraordinary.