Reading Time:
7
minutes
In 1946, Solomon Asch wrote a paper on how shape language and the physical aspects of a character affect the emotional aspect of a character:
 Body shape has a tremendous impact on the overall impression of the character. If you ever looked at a cartoon character and though they seemed confident but didn't know why, you probably were not aware of the character's shape language!
Shape psychology is widely practiced in Disney and other famous animation studios, but the effect of shape is not confined to the movie industry. A lot of marketing agencies and animation studios utilize the power of shape language to design well-structured characters that are key to brand awareness and lead generation.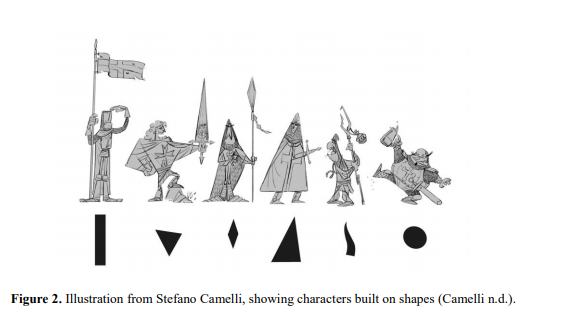 In this article, we briefly talk about different character shapes and how each of them can be used to communicate different emotions. By knowing some basic universal rules about shaping psychology, you will be able to tell a bad character from a good one. This way, you'll have more knowledge when outsourcing your character design projects to a character design studio. Ok enough talking, let's dive in!
Understanding shape language in character design
Shape Language is a concept used in art and 3D animation to communicate meaning based on shapes we are familiar with. When used in character design, shapes can tell a story, show personality, and illicit an emotional response in the viewer without using any words.
David Colman, an Emmy winning character planner found in his studies that:
Body language and overall posture of the character has more weight of emotion compared to facial expressions (eyes, eyebrows, lips and so on)
Some designers argue that color is more effective in conveying emotions; however, you should know that color theory is pretty subjective and can be interpreted in different ways from culture to culture. Shape language, on the other hand, seems to have a universal meaning making it much more important for designers and brands.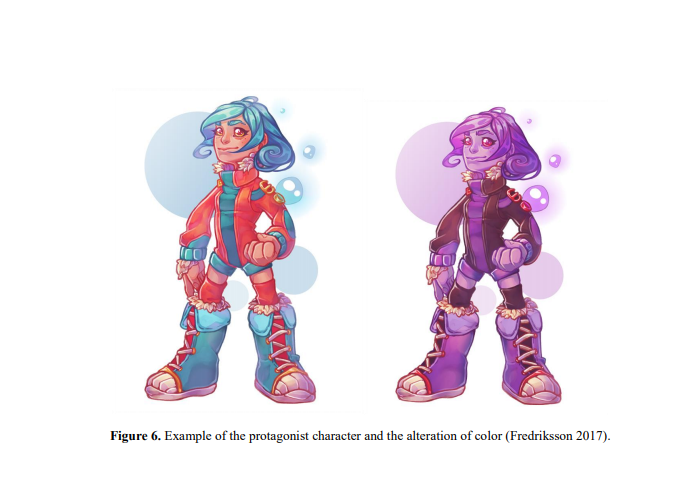 (We have a complete and simple guide on using color for a character, you can check it out on the Color theory on the character design page.)
Colam also says Communicating a personality through body language ,and the silhouette is far more potent than only showing emotion through facial expression. That's why we usually tend to draw the body first and then add more details with the face.
What's more, is that we often assign qualities to a person or a character in our subconscious only by perceiving them as a combination of shapes.
What is shape psychology (Infographic)
Another term for shape theory. Here, we're mostly talking about the psychological impact of different geometrical shapes that correspond to a specific feeling. For example, the character "Anger" in Inside-Out is a rectangular type figure, which complements the short-tempered personality type of that character.
Before we talk about shapes in character design, let's learn some basic universal ideas about shapes and how they are used in the design: (the text is derived from concept art tutorial)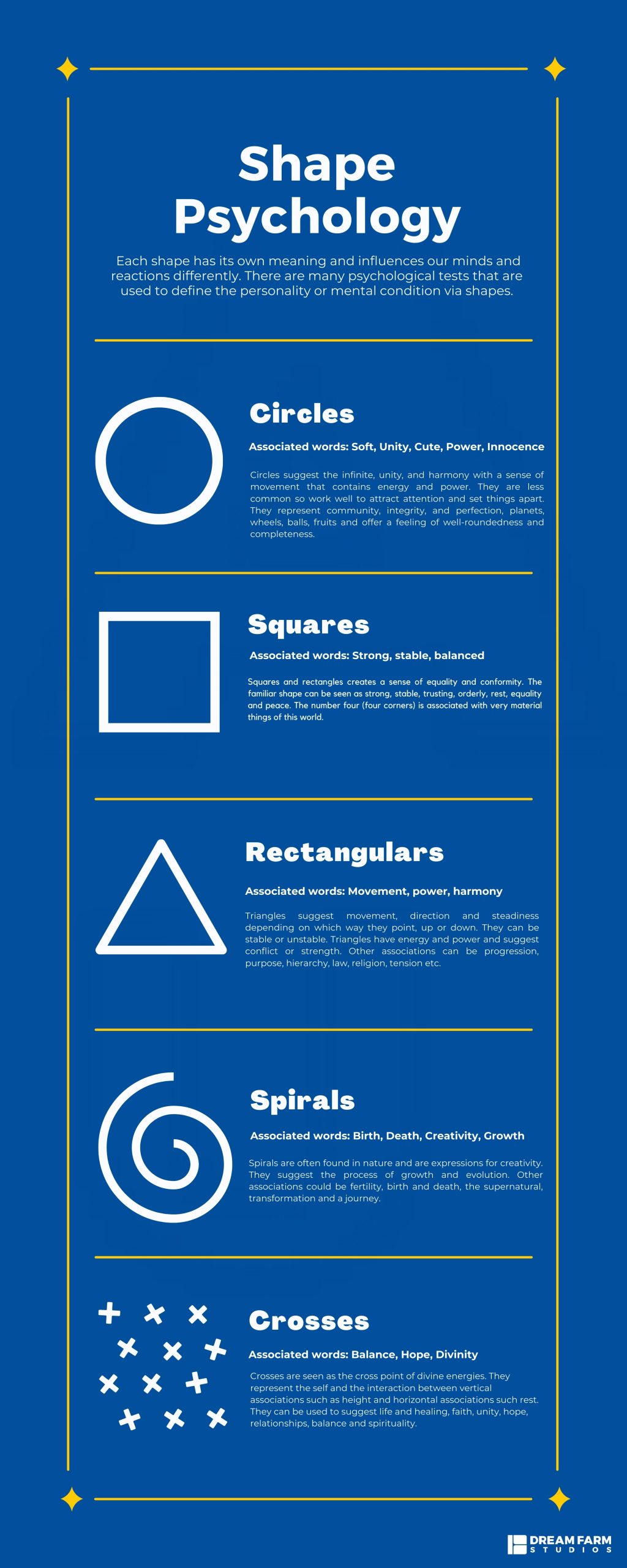 What are different types of shapes in design?
Basically, there are 3 types of shapes that are usually used in the mainstream design:
Organic shapes: think about all the free-flowing and non-symmetrical shapes in nature; clouds, planets, earth, they're all randomly formed and we call them organic.
Abstract shapes: when you combine the two other types of shapes without any specific goal or structure, you got yourself an abstract shape.
Geometric shapes: these are all the shapes that you learned to draw as a kid like squares, rectangular, and circles. They are often symmetrical and structured shapes with sharp edges.
How do geometric shapes affect the psychology of the characters?
shape language Circle
You probably have seen some chubby faces and wondered: "Isn't that cute?" Well, there's a reason for that. Circles and ovals are mostly used for friendly and outgoing faces. You can experiment with putting circular shapes in different parts of a character's body, clothes, and hair to show the same warm feeling.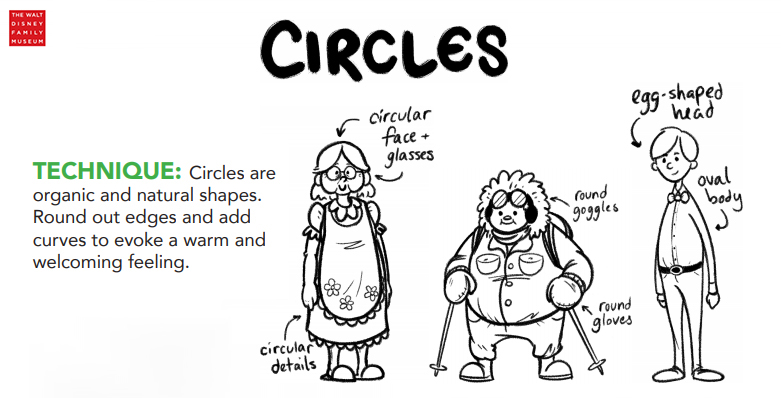 Shape language Square
Have you ever thought about the reason why square-faced people look more confident and inflexible? That's because square-like shapes relate to straight vertical and horizontal lines that communicate strength, stability, and confidence. Squares can both be large and daunting or comforting and clumsy. They often depict steadfast characters who are dependable and are commonly used for superheroes.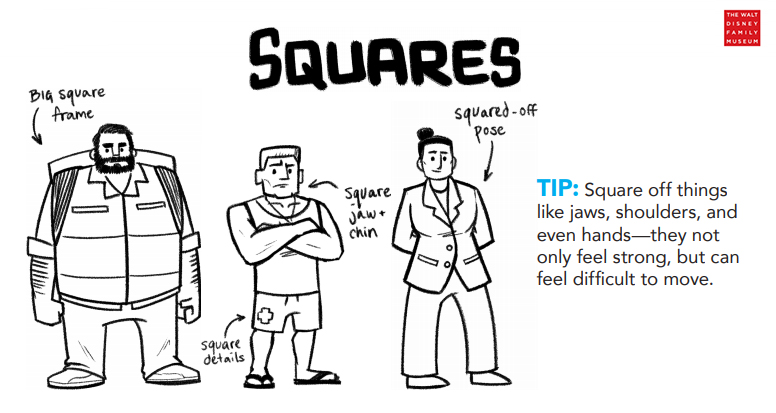 Shape language Triangle
And finally, the evil shape! Triangles are the most dynamic of the three shapes we have mentioned so far. Bad guys and villains are often based upon dominant triangular concepts, as they appear malicious, sinister, and communicate with the most aggression. It is the circle's most opposing shape and is often used for antagonists.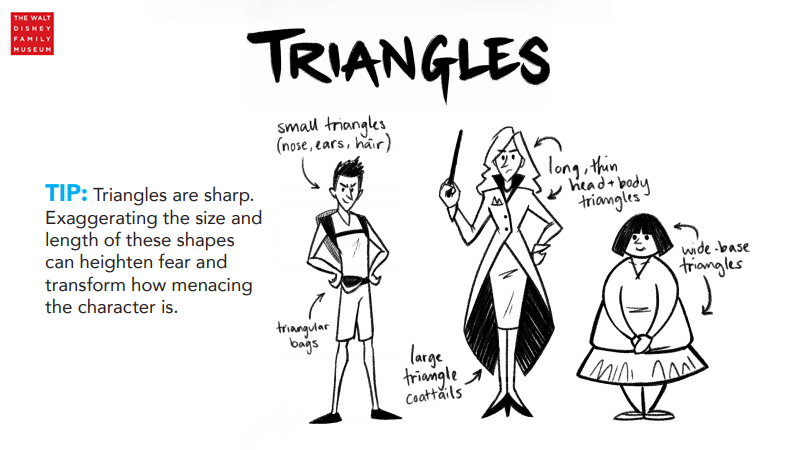 Impact of shape theory in characters' personality types (UP animation)
Up (2009)
One of the main characters of Up, produced by Pixar Animation Studios, is the grumpy Carl: A stubborn old man who wants to stay put and has a generally solid and static manner that is much revealed in his square-like shape.
Charles Muntz – the antagonist – has a much more angular concept as seen for example in his head, shoes, and cane. The jacket also gives him a very triangular major shape. Muntz's leader dog, Alpha, also has a much more malicious appearance compared to Dug's friendly countenance – a triangle versus a circle. This is something that we can relate to reality as well: Aggressive dogs tend to have more angular concepts than the general, more circular-based, family dogs.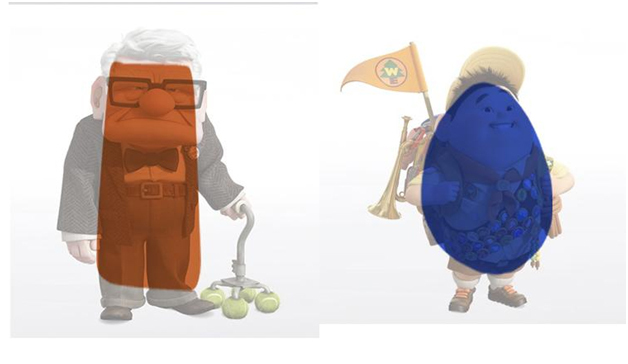 Character design shapes in Games, what is beautiful is good!
By using shape language techniques and principles, we define the personality traits of a game character. The subtle details of the character's face, for example, scars and pimples, make up the good and the evil characters in the world of video games. Take a look at the following image where two game characters face shapes are compared next to each other:
Characteristics of the protagonist:
overall white outfit
mediocre human traits such as eyes, nose, and mouth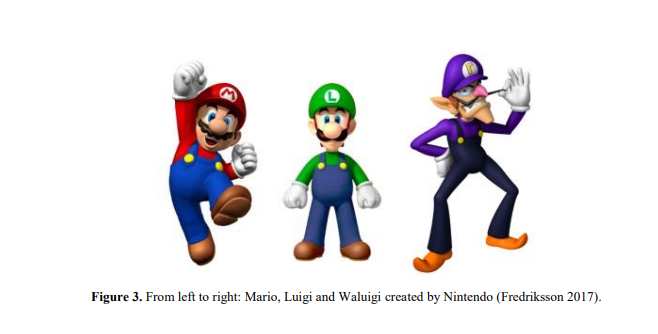 Characteristics of the antagonist
overall black outfit
bald head
scars and burns
frowning face
evil eyes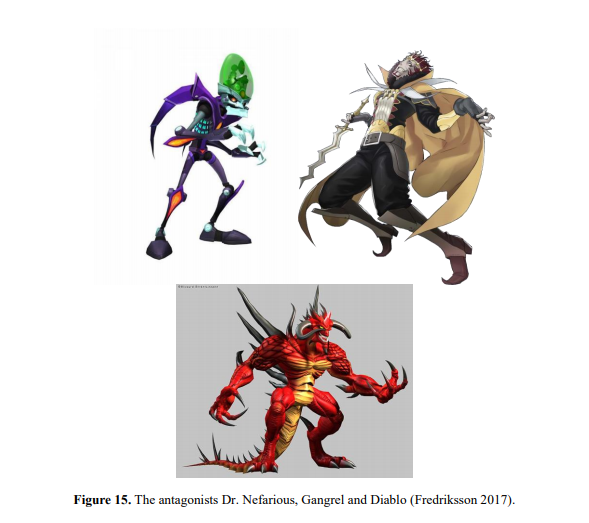 Moreover, If you look at the protagonist, it's obvious that the character has favorable personal qualities and overall happiness. This is often referred to as the "what is beautiful is a good stereotype" or "the halo effect" and is widely practiced in character design. Uncharted 2 (2009), developed by Naughty Dog, uses the concept of "what is beautiful is good", as does the evil twins of Mario and Luigi, developed by Nintendo.
How are shape characters different in some situations?
One might think that all characters in storyboard animation are made up of basic shapes like circles, squares, and triangles, but there are situations where we can mix all these shapes to create a character. Besides, circles, squares, and triangles don't always mean one thing. There might be times when shapes are used to disguise the purpose or functionality of a character, object, or location.
For example:
Circles: There may be circular and rounded characters who are designed to look kind and are the antagonist. Using circular shapes is purposeful and can mislead the audience about
who the character is. Adding circles to villains can imply their level of weakness and express that they do not have to look dangerous to be dangerous.
Triangles: These shapes don't always mean things are bad. Lots of triangular shapes on an object can allude to its strength. Triangles on a character don't always mean that they are a villain either. They can have spikes on their clothes for protection like a warrior, or points in their hair or face because they are intellectually sharp.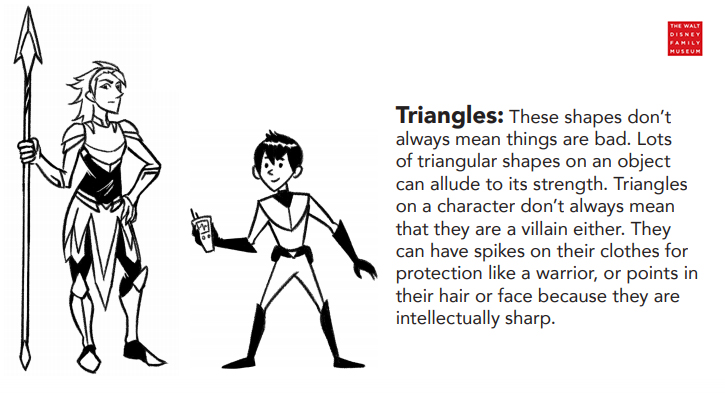 How about brand characters?
As you saw previously, there are some universal rules you need to follow to make characters appealing. Likewise, in the world of advertising, the same rules apply to brand characters. If the character is not high quality in terms of design principles, then we shouldn't expect our brand character to have a desirable marketing output and ROI. Learn more about brand character design to fully realize the power of design in the work of branding.
A case study about Shape characters in Dream Farm Studios
At our studio, we come across a lot of character design projects, some of which are already designed and need some tweaks and adjustments to get better recognition. Below is one example of a project in which the character shape language is not designed suitably for children.

It's a rule of thumb to use less triangular, square, and rough angles in the design, according to the age group of animation and the psychology of geometric shapes, and to use more curved shapes. Besides, adding larger claws for the character and reducing the width of the hand on the arm and forearm is more appropriate and more modern in terms of design. It is recommended to remove the current floor and make the toes visible because, in some places, such as climbing rocks and trees, it can create anatomy and a beautiful style in animation.

Final Words
We all know how a character is viewed differs from one person to another. However, there are some universal rules about shape language that are proved to be constant all over the world. Knowing different shapes in character design and using them at the right time and in the right place will make your character come into life.
Recently, more companies are using brand mascots in their transmedia storytelling campaigns. If you're new to the topic, we recommend reading what is transmedia storytelling article before moving on to the next part. 
Most common questions about shape language (Bonus tips)
Now that you  know everything about the most basic shapes in character design, let's get to some related questions that people usually ask about this topic:
What is the best shape for character design? 
In design, shapes give the character a sense of meaning and identity. So, if we assume one shape is better than the other, by definition, we're saying one emotion is superior to the other. Shapes are best implemented we combine them to create emotions that make our design meaningful.
What makes a character design appealing?
Characters should follow an easy-to-read design language, meaning the audience should identify the feelings and personality type just by looking at it. Making your design complicated and too abstract won't appeal to everyone.
What makes a character look different?
Creating a character that looks and feels different takes a lot of creativity and effort. You should experiment with different body types, posture, skin tone, and limbs length to see which one you feel comfortable with.
Check out our in-depth guide about 2D animation production (what is 2D animation) where you get a deeper sense of shape language in real-life scenarios.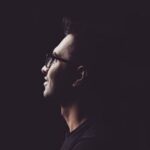 Arash is the equivalent of Buzz in Toy Story when he goes to infinity and beyond, but never comes back! responsible for our blog and content marketing efforts, he always delights the audience with his tenacity and passion in creating the extraordinary.